10 Ways to Relieve Back Pain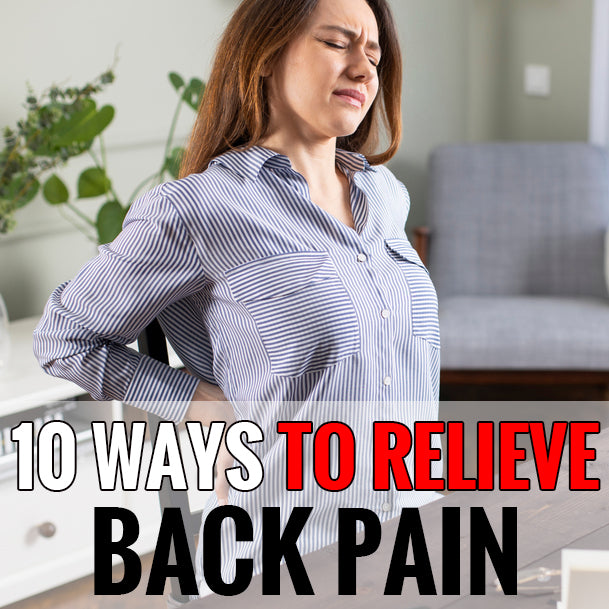 Get Better Sleep
Sleeping can be difficult when you have back pain. Lack of sleep can make back pain worse in a vicious cycle. Back pain can also be aggravated by a poor sleep position. Lie on your side. You can relieve back strain by positioning a pillow between your knees to keep your spine in a neutral alignment. Slide a pillow under your knees if you need to sleep on your back. Make sure you sleep on a mattress that is comfortable and firm.
Maintain a proper posture
Poor posture can worsen back pain, especially if you sit for long periods of time. Make sure you don't slump over your keyboard. Place your body against the back of your chair and sit upright with your shoulders relaxed. Try placing a pillow or towel between your lower back and your seat. Make sure your feet are flat on the ground. A back brace will also help you maintain a good posture.
Buying medicine at the store
Pain relievers such as nonsteroidal anti-inflammatory drugs (NSAIDs) and acetaminophen are commonly used for back pain. Both have some side effects, and some people may not be able to take them. Consult your doctor before taking pain relievers. Studies show that more than one treatment type is likely to be needed to solve your pain problem. Your pain problem won't be solved by medication alone.
Physical therapy for rehabilitation
The physical therapist will show you how to sit, stand, and move in a way that keeps your spine in proper alignment and relieves strain on your back. Additionally, they can teach you exercises that strengthen the core muscles that support your back. Back pain can be prevented by maintaining a strong core. As your strength, flexibility, and endurance increase, your back pain decreases -- but it takes time
Wear a back brace
The purpose of a back brace is not simply to mask your pain, but to improve your posture, strengthen your back muscles, and support your back. This helps relieve a lot of stress on your back, which heals your spine and prevents pain altogether. A back brace also prevents your back condition from getting worse.
Resting an aching back isn't a
good

idea
Back pain used to be treated with bed rest by doctors. In fact, lying still is one of the worst things you can do. It can aggravate back pain and lead to other complications. Rest for no more than two days. Slowly get up and get moving again. The most effective way to relieve back pain quickly is through exercise. Yoga, swimming, and walking are all good options.
Heat and Ice Treatment
You may be able to reduce pain and inflammation from an injury by applying ice to the painful areas on your back on a regular basis. Repeat this several times a day for up to 20 minutes each time. To protect your skin, wrap the ice pack in a thin towel. Switch to heat after a few days. Massage the affected area with a heating pad or warm pack to help relax your muscles. Relaxation can also be achieved by taking a warm bath. Never sleep on a heating pad to avoid burns and tissue damage.
Therapeutic Massage
Chronic back pain sufferers found that one weekly massage improved their pain and functioning over a 10-week period. Initially, the benefits lasted about six months, but then diminished after a year. Spinal manipulation is another hands-on approach. By performing this treatment under the supervision of a licensed specialist, you will be able to relieve structural problems in the spine and regain mobility in your body.
Nerve Stimulation
If more conservative treatment does not provide relief, your doctor may recommend acupuncture. The doctor may also recommend transcutaneous electrical nerve stimulation (TENS), which blocks pain signals by delivering mild electric pulses to the nerves.
Psychotherapy
Seeing a psychologist for back pain may seem strange. However, cognitive behavioral therapy has shown to be very effective in treating chronic back pain both in the short term and in the long term. CBT may help people with back pain change their perceptions of physical activity - including why they avoid it - in order to assist them in becoming more active. A significant decrease in pain and disability has been reported by people who do CBT.