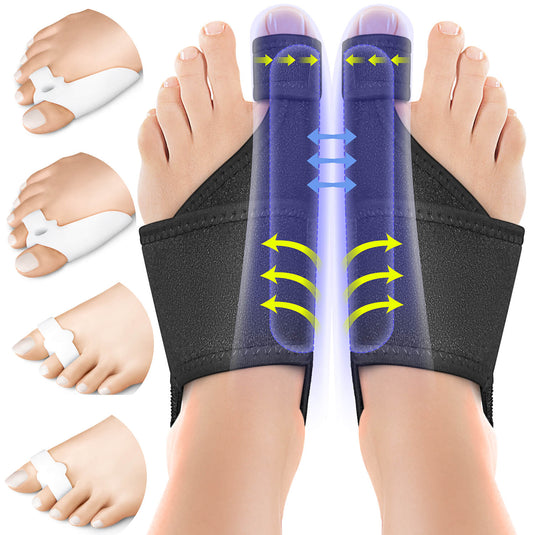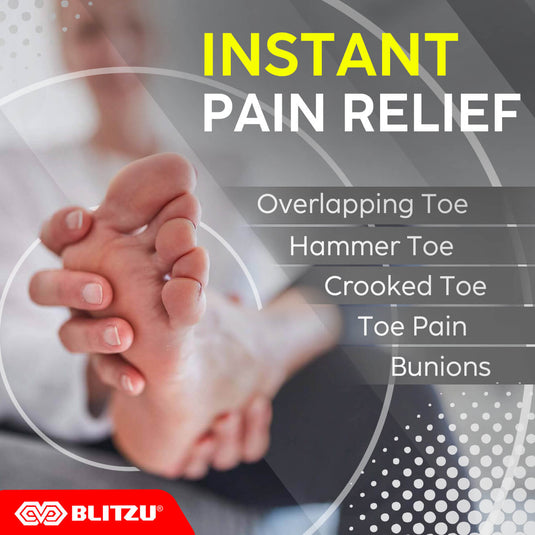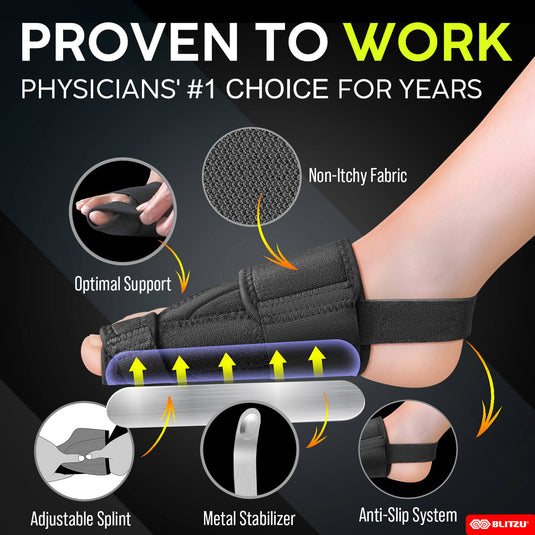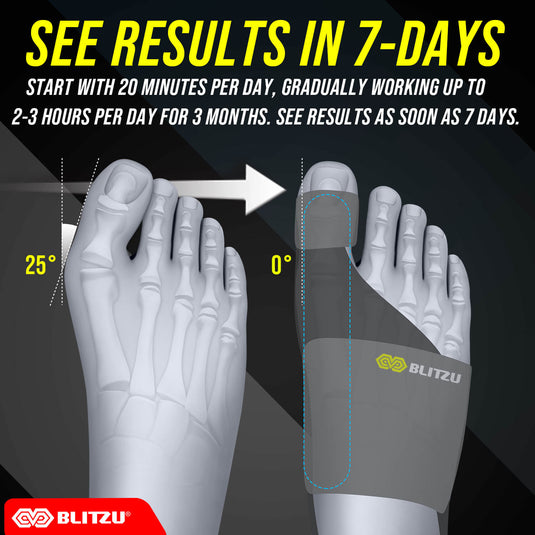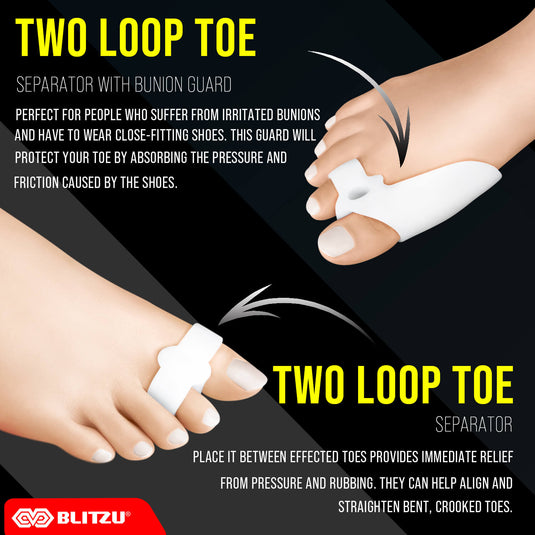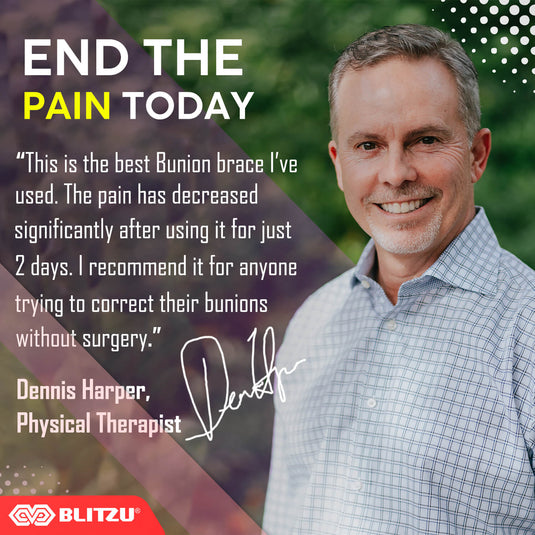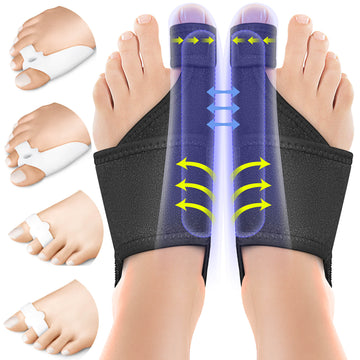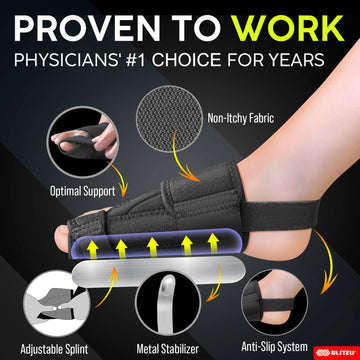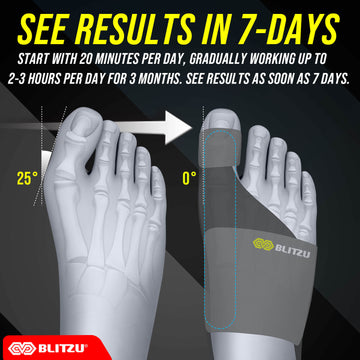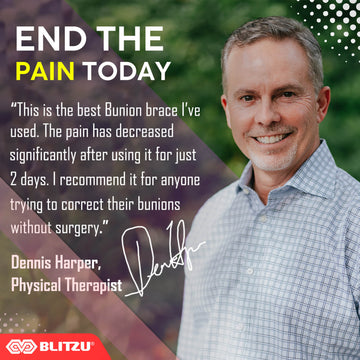 Product Description
What is Bunion?
Bunion (also known as hallux valgus) is a bump on the side of the big toe. A bunion, however, is more than just a visible bump; it actually reflects changes in the bony framework of the front part of the foot. In contrast to pointing straight ahead, the big toe leans toward the second toe. As a result, the bones are thrown out of alignment, resulting in a bunion bump.
The condition of bunions is progressive. It begins with a leaning of the big toe, gradually changing the angle of the bones over time and eventually producing the characteristic bump. 
What Causes a Bunion?
In most cases, bunions are caused by an inherited mechanical defect in the foot. A person is not inherited with a bunion, but with certain foot types that make them more likely to develop one.
Despite the fact that wearing shoes that crowd the toes will not cause bunions, it can sometimes make the deformity worse. 
The Symptoms of Bunions
A bunion may cause the following symptoms:
Pain or soreness

Inflammation and redness

A burning sensation

Possible numbness
The symptoms are most common when wearing shoes with a narrow toe box or high heels. Perhaps this explains why women are more likely to experience symptoms than men. Bunions can also be aggravated by spending a lot of time on your feet.
Treatment without surgery
A bunion can sometimes be treated simply by observing it.

Bunions can be treated with early treatments, but they won't change the deformity itself. These include:

Changes in shoe wear. It is very important to wear the right kind of shoes. To avoid aggravating the condition, choose shoes with a wide toe box instead of pointed toes or high heels.
Padding. Pain can be minimized by placing pads over the bunion area. Our bunion corrector comes with two pairs of padding to protect your toes.
Activity modifications. Avoid activities that cause bunion pain, such as standing for long periods of time.
Medications. Pain and inflammation may be reduced with nonsteroidal anti-inflammatory drugs (NSAIDs), such as ibuprofen.
Icing. Inflammation and pain can be reduced by applying an ice pack several times a day.
Orthotic devices. Our bunion corrector protects and gently realigns the toe while relieving discomfort and pain caused by bunions, hallux valgus, and crooked toes.


Features:
THE BEST FOR ALL TYPES OF PAIN: A perfect solution for people suffering from hallux valgus, bunion correction, hammertoe, toe separator, crooked toes, toe realignment, arthritis, calluses, corns, surgery, and more! Our bunion protector sleeves provide the comfort you need all day and all night.

PHENOMENAL BUNION PAIN RELIEF: Protects and gently realigns the toe while relieving discomfort and pain caused by bunions, hallux valgus, and crooked toes. In addition, it minimizes friction, pressure, and inflammation to provide comprehensive bunion pain relief.

RESTORE NATURAL ALIGNMENT: Our bunion support brace kit is designed to help ease the discomfort, pain and inflammation associated with bunions. Our bunion corrector kit offers relief from hallux valgus, overlapping toes, turf toe or crooked hammer toes. The toe straightener works by gradually compressing the foot and toe and gently pushing them back into proper alignment over time.

PROTECTS AND SUPPORTS YOUR BIG TOE: It is designed to prevent the progression of deformity, as well as minimize discomfort during the correction process. With the gel toe separators, you'll experience relief from bunion pain and reduce friction between your toes while enjoying comfortable padding and gentle realignment.

24HRS CARE DAY-NIGHT SUPPORT KIT: A professionally selected 6-piece package that includes: bunion correctors (1 pair), gel toe separators (1 pair) and bunion cushion protectors (1 pair). The toe gel separators are designed to help maintain proper toe alignment, and provide immediate relief from pressure. The bunion protectors act as a buffer for the sensitive bunion region, preventing rubbing and irritation, as well as assisting in the correction of crooked toes.

RETAIN RANGE OF MOTION: Keep your feet, toes, and arches protected and cushioned with our ultra-comfy fabric and padding that will give you protection while still allowing you to move freely. This is important because by preserving your range of motion, your feet can continue to work and strengthen.

EXCELLENT WORKMANSHIP AND RELIABLE: BLITZU bunion splints are made with 3 premium materials to make it breathable, elastic and skin-friendly. Cotton inner layer material is sweat absorbing, skin friendly. Middle layer is made of elastic and porous abs. The integrated aluminum bars are bendable to provide progressive correction, especially for individuals with sensitive bunions.
Frequently Asked Questions About These Bunion Corrector
Q: These Big Toe Brace is designed to treat what conditions/injuries?
A: It protects and gently realigns the toe while relieving discomfort and pain caused by bunions, hallux valgus, and crooked toes. In addition, it minimizes friction, pressure, and inflammation to provide comprehensive bunion pain relief.
Q: What are the benefits of this bunion brace?
A: As opposed to other bunion braces, our wrap is designed specifically to treat turf toes. With the wraparound turf toe brace, you can relieve pain associated with big toe joint pain, turf toe, bunion and sprains in the big toe.
Q: Is this compression big toe brace suitable for everyone?
A: With the one-size-fits-all design, it fits a wide range of adults, including men, women, teenagers, and children.
Q: How often should I wear it?
A: After incrementally increasing the length of time worn each day, the splint can be worn throughout the night for supportive pain relief.
Q: Is this toe separator latex-free?

A: Yes, this bunion corrector is latex-free.
Q: Can it be machine washed?
A: Yes. Machine wash in cold water with a mild detergent. Let the product air dry completely before reapplying. Avoid using high temperatures when washing or drying.
Q: I have narrow feet. Will the bunion splint work for me?
A: Yes! The corrective brace is adjustable for a secure fit on most feet, up to a maximum arch circumference of 14 inches.
Q: Can these bunion splints be worn with shoes?
A: Yes, this bunion splints can be worn with shoes or any footwear, however, they may need to be a size larger than usual.
Q: What type of fabric are the bunion splints made of?
A: The inner layer is made with a breathable 100% cotton terry cloth. The outer layer is comprised of 100% polyester fabric.
Q: Will the bunion splint heal my bunions?
A: The splint will slow the progression of bunions and will reduce pain and inflammation caused by them, but cannot heal them completely.
Q: Can I walk with my bunion splints on?
A: Yes, the splints are designed to allow you to walk while providing corrective support for your big toe.
Q: Is this a single splint or do I get one for each foot?
A: The bunion splint is packaged as a pair, one for the left foot and one for the right.