Gamer Gloves: Unlocking Pain Relief for a Seamless Gaming Experience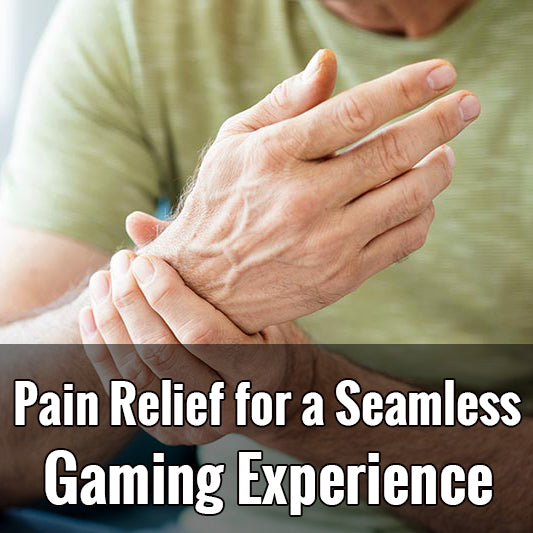 Welcome, fellow gamers! As we delve into the immersive world of gaming, it's essential to take care of our bodies, ensuring we can enjoy extended gaming sessions without discomfort or pain. In this guest post, we'll explore the benefits of gamer gloves and how they can alleviate pain, enhance performance, and unlock a whole new level of gaming experience. So, grab your controllers, and let's dive in!

Understanding the Pain Points
The Demands of Gaming: Gaming has evolved into an art form that engages our minds, reflexes, and motor skills. However, hours of gameplay can take a toll on our bodies, leading to hand fatigue, joint pain, and repetitive strain injuries.
The Significance of Hand Health: Our hands are the bridge between our intentions and the virtual world. Neglecting hand health can hinder gameplay and even force us to cut short our gaming sessions.
Gaming Gloves: The Solution to Pain: Enter gamer gloves, the ultimate companion for gamers seeking comfort and pain relief. These innovative gloves address the pain points associated with gaming and provide a range of benefits that optimize gameplay.

Benefits of Gamer Gloves
Enhanced Grip and Control: Gamer gloves are designed with advanced materials and specialized textures, providing superior grip and control over your gaming peripherals. This ensures precise movements and reduces the risk of accidental slips.
Reduced Hand Fatigue: Prolonged gaming sessions can cause hand fatigue, which hampers performance. The ergonomic design and supportive features of gamer gloves help reduce muscle strain and keep your hands comfortable, allowing you to game for longer periods.
Joint Support and Pain Relief: Gamer gloves offer targeted support to key areas such as the wrists and thumbs, reducing stress on joints and minimizing the risk of conditions like carpal tunnel syndrome. By providing compression and stability, these gloves help alleviate pain and discomfort during intense gaming sessions.
Moisture and Sweat Control: Sweaty palms can negatively impact your grip and overall gaming experience. Gamer gloves often incorporate moisture-wicking fabrics, ensuring dry and comfortable hands throughout your gameplay.



Choosing the Right Gamer Gloves
Consider Your Gaming Style: Different gaming genres require specific functionalities. Assess your gaming preferences and look for gloves that offer the right features, such as touchscreen compatibility, fingerless designs, or full hand coverage.
Material Matters: Opt for gloves made from breathable, high-quality materials like microfiber or neoprene. These materials offer durability, flexibility, and comfort, allowing you to focus on your gameplay without distractions.
Perfect Fit: Proper sizing is crucial for optimal performance and pain relief. Ensure you measure your hands accurately and refer to the sizing charts provided by glove manufacturers to find the perfect fit.

Gamer gloves have emerged as a game-changer in the world of gaming accessories, providing pain relief, enhanced grip, and improved performance. By prioritizing hand health and comfort, these gloves help gamers of all levels achieve their full potential without the limitations of pain and discomfort. So, next time you embark on an epic gaming adventure, make sure to equip yourself with a pair of gamer gloves and unlock a whole new level of seamless, pain-free gaming experience. Happy gaming!