How Do Neuropathy Socks Work?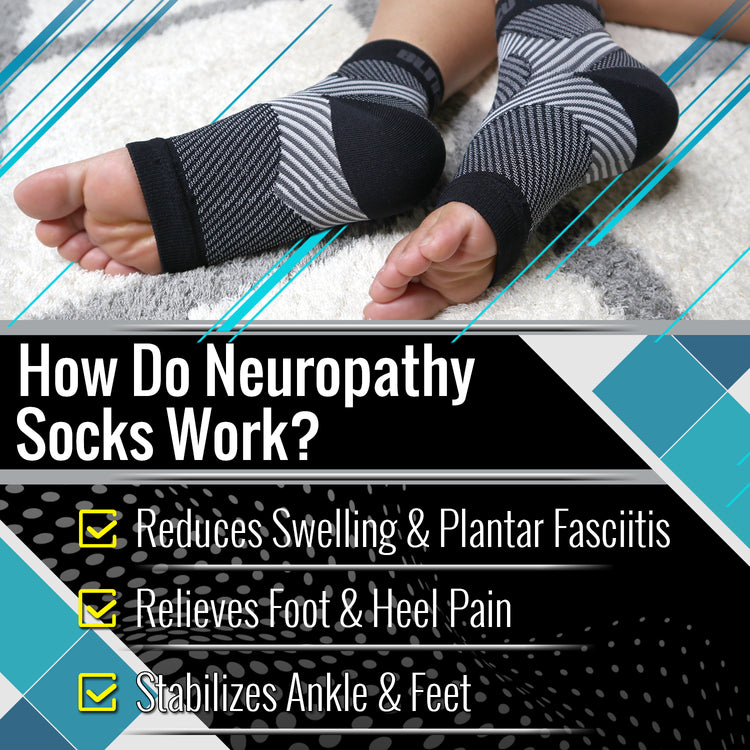 Neuropathy socks are a popular solution for those who suffer from peripheral neuropathy. This condition affects the nerves outside the brain and spinal cord and can cause pain, numbness, and weakness in the extremities. Neuropathy socks can help alleviate these symptoms, but how do they work?
Compression
One of the main features of neuropathy socks is compression. The socks are designed to provide pressure on the foot and leg, which helps to improve blood flow. Improved blood flow can reduce swelling and inflammation, which can alleviate pain and numbness. Compression can also help to prevent blood clots, which can be a risk for those with neuropathy.
Moisture-wicking
Neuropathy socks are often made from moisture-wicking materials, such as bamboo or merino wool. These materials help to keep the feet dry and reduce the risk of infection. Moisture-wicking socks can also prevent odors from developing, which is particularly important for those who are prone to foot infections.
Padded soles
Some neuropathy socks have padded soles, which can provide additional cushioning and support for the feet. This can be particularly beneficial for those who have foot pain or plantar fasciitis. The padding can help to distribute pressure more evenly across the foot, which can reduce pain and discomfort.
Non-binding tops
Neuropathy socks often have non-binding tops, which means they are designed to fit snugly without constricting the leg. This can be particularly important for those with circulation issues, as tight socks can exacerbate the problem. Non-binding tops can also prevent the sock from slipping down, which can be a nuisance for those who have mobility issues.
Overall, neuropathy socks work by providing compression, moisture-wicking, padded soles, and non-binding tops. These features can help to alleviate symptoms of neuropathy and improve the overall comfort of the feet. If you suffer from neuropathy, consider investing in a pair of high-quality neuropathy socks to see if they can help alleviate your symptoms.