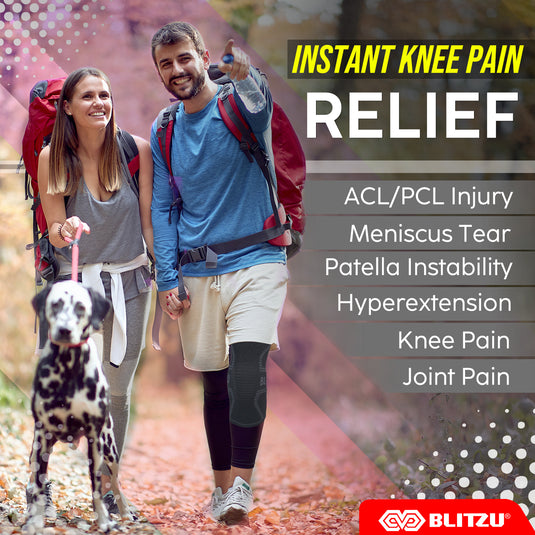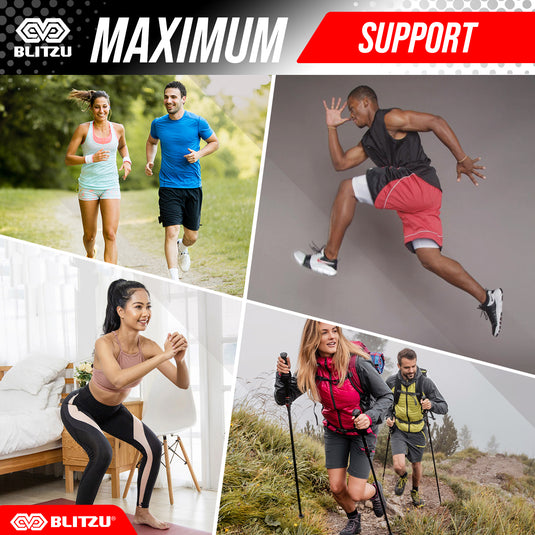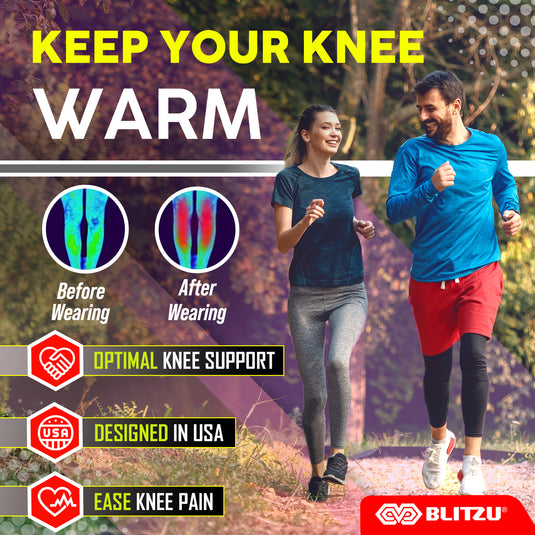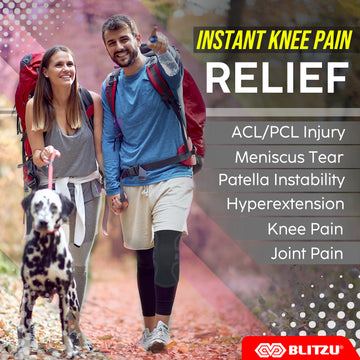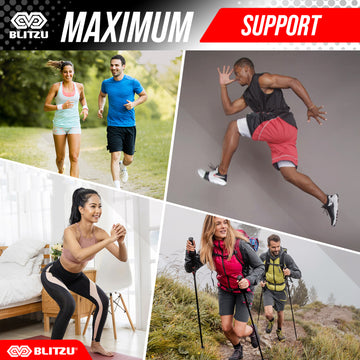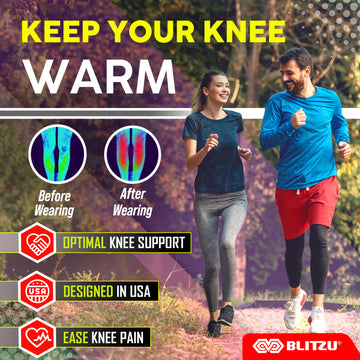 Product Description
Our Performance™ knee sleeves are extremely comfortable and can be worn on a daily basis to help you recover faster from knee pain, and fatigue. These knee sleeves keep your patella in place and your knee ligaments stable. The 4-way compression fabric provides adequate compression without restricting your movements during all types of activities.

What is a knee compression sleeve?
Knee sleeves are stretchy bands of fabric that provide warmth and compression to the knee. The warmth of the compression increases blood flow to the knee, improving control, support, and stability. 
Knee compression sleeves are different from knee braces, which are used to protect an already injured knee. 
The purpose of knee compression sleeves is to reduce swelling, minimize pain, and provide support, while the purpose of knee braces is to limit movement and allow for healing.

How do knee compression sleeves work?
The purpose of knee compression sleeves is to prevent future injuries or damage to the knee. In the case of severe instability or injuries, knee sleeves are not sufficient, and a knee brace may be recommended by your doctor. Knee compression sleeves, however, can help to:

Improves blood flow and reduces pain by providing compression.
Aid in the recovery process by preventing the loss of body heat.
Enhance sense of stability
Increase proprioception - the ability to feel a joint's position
Increase your range of motion.
As a result, your synovial membrane receives a steady supply of oxygen and nutrients, while synovial fluid lubricates the joint.

By wearing knee compression sleeves, you can strengthen your knee muscles, ligaments, and tendons through exercise.

The Benefits of Wearing Knee Sleeves:
Support and Control
This is particularly relevant if you're active or into sports. These activities can put a lot of pressure on your knee joints and a compression sleeve can help align and support the different parts of your knee, allowing it to perform better and protecting it from injury.
Compression
A knee compression sleeve also compresses the knee, which increases the temperature of the joint. This helps increase blood flow and boost healing after a knee injury.
Pain Reduction
Arthritis is one of the most common causes of chronic knee pain, and it can negatively affect every aspect of your daily life. Studies have shown that wearing a compression sleeve can help to reduce your pain levels, allowing you to resume your daily activities in comfort. Compression sleeves can also help minimize pain after injury.
Boost Performance
The Performance™ Knee Sleeves are one of the most popular gear among runners and athletes. They are constructed from high-quality elastic, lightweight, and breathable materials that give athletes a push, enabling them to move quickly and perform their workouts effectively.
Features:
KNEE PAIN RELIEF: Fight pain, recover and get back in the game with BLITZU knee sleeves. Our knee compression sleeve activates your body's natural pain-relieving mechanisms, provides targeted support, and promotes faster recovery from meniscus tear, ACL, PCL, MCL, arthritis, post-surgery, swelling, sports injury, joint pain as well as runners and jumpers knee problems.

NO ITCHINESS OR ALLERGIES: Our knee brace is made of breathable, form-fitting, and moisture-wicking premium materials. These knee sleeves are designed to keep you cool, comfortable, and itch-free. You don't have to worry about allergies or irritation while resting, recovering, or exercising.

OPTIMAL COMFORTABLE COMPRESSION: Well-balanced compression and comfort. These knee compression sleeves disperse the pressure and improve circulation around your knee area and provide you an adequate compression without restricting your movements. Ideal for runners, hikers, bikers, weightlifters, doing exercise, yoga, basketball, volleyball, football, tennis & more!

WEAR UNDER YOUR CLOTHES: Our knee sleeve is a super-comfortable, low-profile alternative to big, bulky, and uncomfortable osteoarthritis unloader knee brace on the market. The slim design makes it easy and comfortable to wear under your pants inconspicuously. This runners knee brace conforms to the shape of your knee, making it ideal for running, jogging, climbing or bending.

SPEEDY RECOVERY: Our knee brace is scientifically proven to increase blood flow and enhance the body's healing process for improved recovery and muscle soreness relief. BLITZU knee compression sleeves can improve longevity during training and competition by reducing muscular vibrations caused by repetitive impact against the knee when running or working out. It also reduces inflammation, which aids in the treatment of knee pain from acute or chronic joint injuries.

BOOST YOUR PERFORMANCE: Our knee brace optimizes performance during and after activity by preventing potential injury and enhancing performance for high-intensity workouts, training, sports & exercise. Exercising causes the body to produce lactic acid, which builds up in the muscles and reduces performance. Increasing oxygen levels in the muscle will prevent this build-up and will remove lactic acid from the muscles. This will lead to improved performance and recovery.

A TRUSTED MEDICAL EQUIPMENT: Designed and engineered in New York, USA. Blitzu knee compression sleeves will keep your knees safe and supported when you hit the gym or the track. Our knee sleeves are sold in pairs to provide complete knee protection. Available in four sizes (S, M. L, XL) and 7 colors (Black, Orange, Grey, Pink, Purple, Blue, Nude) for a customized fit. To determine your size, measure the circumference of your thigh four inches above the knee cap, and size down if you prefer a stronger compression.
Frequently Asked Questions About This Knee Sleeve
Q: This knee sleeve is designed to treat what conditions/injuries?

A: These knee sleeves are suitable for all types of knee pain, including arthritis, tendonitis, knee strains, ligament injuries, sports support, and recovery compression.
Q: What are the benefits of these knee compression sleeves?

A: With this athletic knee support, you will not only be able to alleviate sore knee pain, but you will also be protecting yourself from further injury as you recover and begin to build your strength again. It reduces swelling, stabilizes, and provides additional support as needed.

Q: Are these compression knee sleeves suitable for everyone?
A: These compression sleeves are available in sizes S to XL, fitting a wide variety of adults including men and women, teenagers, and children.
Q: Are these knee support sleeves sold in pairs?
A: Yes! There are two knee sleeves in each package. They can be worn as a pair or separately based on your needs.
Q: How should I choose a size?
A: Check out our sizing chart above to determine your size.
Q: How often should I wear it?
A: You can wear the knee sleeve comfortably while sitting, standing, and participating in physical activities throughout the day.
Q: Are these knee sleeves latex-free?
A: Yes, these compression sleeves are latex-free.
Q: Can it be machine washed?
A: Yes. Machine wash in cold water with a mild detergent. Let the product air dry completely before reapplying. Avoid using high temperatures when washing or drying.