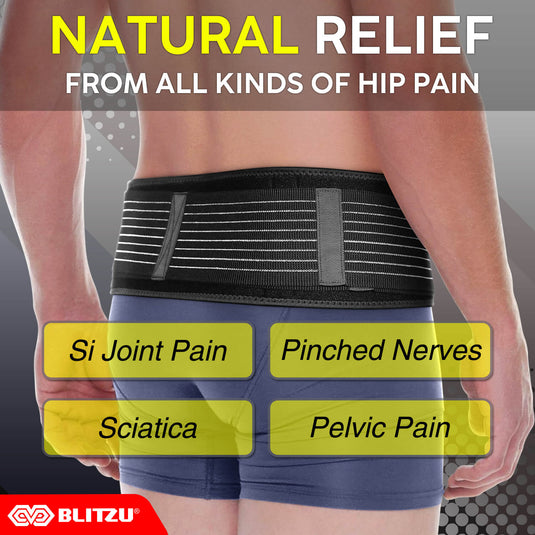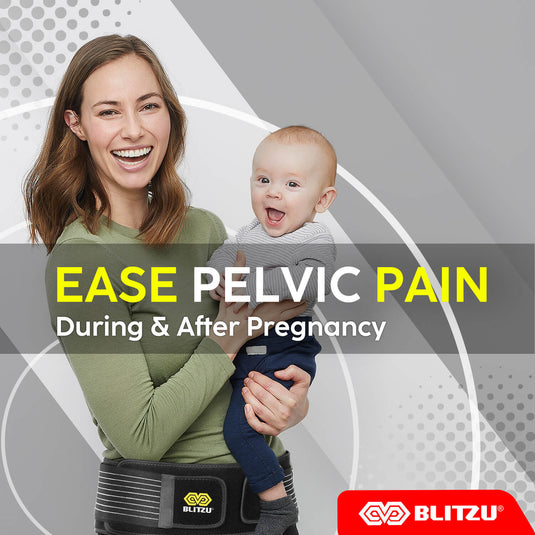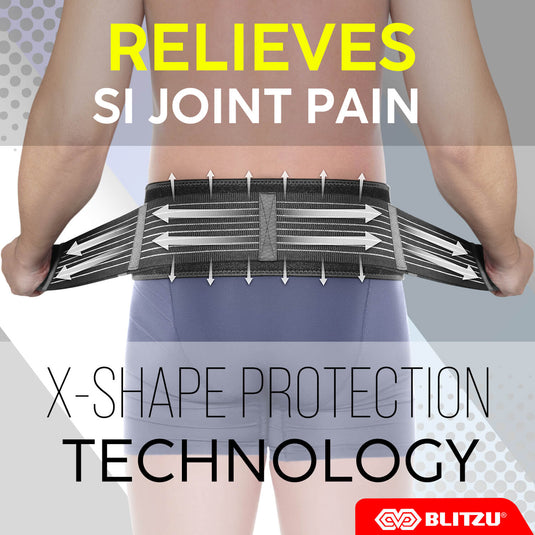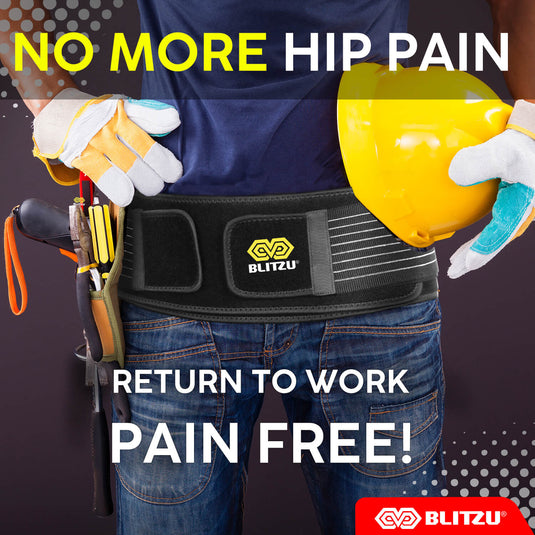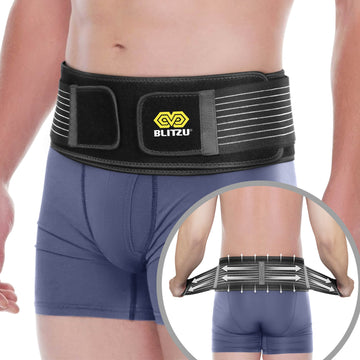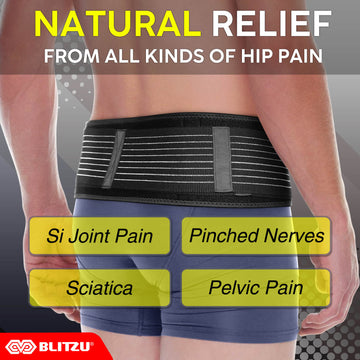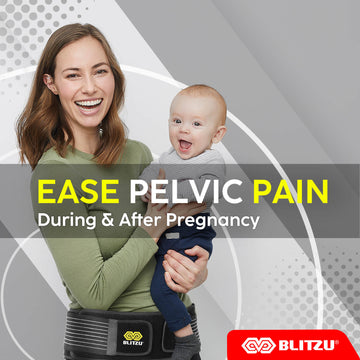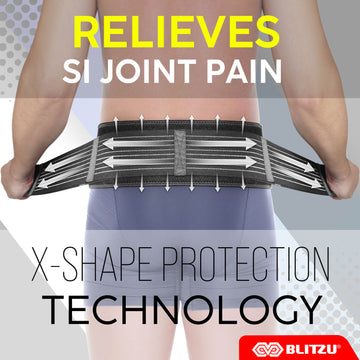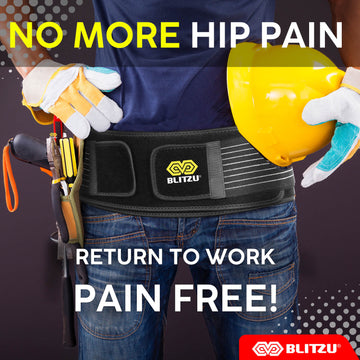 Product Description
What is a SI Joint Belt?
An SI joint belt is designed to reduce pain by limiting movement of the SI joint. In addition to providing support, it reduces the amount of stress on the SI joint and promotes proper pelvic alignment when used consistently.  A trochanteric belt features adjustable buckles or Velcro fasteners, allowing for easy compression adjustment and universal sizing. 


The Causes of Sacroiliac Joint Discomfort:

In half of cases, SI joint pain is associated with a specific event, often an injury, that worsens over time. SI joint pain can be caused by a variety of factors. The most common are:
Age - As time passes, the cartilage in the SI joint wears away. When the cartilage in the SI joint thins out, the bones may rub against one another, causing pain.
Traumatic Injury - Sacroiliac joint discomfort is often caused by sudden impacts to the joint, usually from sports. It is also possible to hurt the SI joint if you fall hard on the buttocks.
Pregnancy - The woman's body releases hormones during pregnancy, which relax the ligaments. It helps to prepare the body for childbirth, but it also relaxes the ligaments that stabilize the SI joint. This can cause discomfort and stress to the SI joint.
Activities that place repeated stress on the joint Heavy lifting - Contact sports, or labor-intensive jobs. An unconditioned pelvic and/or low back muscle may also contribute to SI joint pain when sitting or standing for long periods of time.
Other Disorders - Inflammation of the SI joint may be caused by certain conditions. Ankylosing spondylitis, gout, and rheumatoid arthritis are examples of such disorders.
Check out our other back pain products.


The symptoms of SI joint disorders:

The pain usually occurs in the buttocks, radiating into the thigh or groin, but can also occur in the low back. Typical symptoms of SI joint disorders include:

A feeling of pain, numbness, tingling, and weakness in the lower extremity

Pelvis/buttock pain

Hip/groin pain

Feeling of leg instability

Sleep disturbances caused by pain

Disturbed sitting patterns (unable to sit for long periods of time, sitting on one side all the time)

Painful sitting

Painful climbing stairs


Treatment Options for Sacroiliac Joint Dysfunction:

Treatment of sacroiliac joint dysfunction (SI joint pain) generally aims to relieve pain and restore normal movement to the joint. In the majority of cases, non-surgical treatments are effective in managing SI joint pain.
The following treatments are typically used to treat sacroiliac joint pain:
Rest for a short period: One to two days of rest may be recommended. It is not recommended to rest for more than two days, as this can worsen stiffness and cause pain and deconditioning.
Heat or ice application: Using ice on the low back and pelvis can reduce inflammation and alleviate pain. Using heat around the joint may alleviate pain by reducing muscle tension and spasms.
Medicine for pain: For mild to moderate pain reduction, over-the-counter pain medications such as acetaminophen, as well as anti-inflammatory medications like ibuprofen and naproxen are recommended. When severe and acute pain occurs, prescription medications such as muscle relaxants or narcotic painkillers can be taken. Due to their high addictive potential and severe side effects, these medications should be used with caution.
Performing manual manipulations: Chiropractic or osteopathic manipulation can be highly effective in treating sacroiliac joint pain caused by too little movement (hypomobility). The goal of this therapy is to reduce joint fixation and muscle tension in the SI joint and lower back region, as well as to restore normal movement to the joints.
Braces or supports: In the case that the SI joint is too loose (hypermobile), a pelvic brace can be worn on the waist and pulled snugly to stabilize the area. The Sacroiliac SI Belt is approximately the size of a wide belt and may be helpful when the joint is inflamed and painful. Check out our back brace if you have upper/lower back pain.
Sacroiliac joint injections: In order to alleviate pain and reduce inflammation, local anesthesia (such as lidocaine or bupivacaine) are injected with anti-inflammatory medications. As a result of a joint injection, pain can be minimized as a patient begins to engage in physical therapy and returns to normal levels of activity.
The benefits of using a SI belt:
ELIMINATES SACROILIAC SI JOINT INFLAMMATION: BLITZU sciatic nerve brace reduces and eliminates chronic joint pain resulting from hyper-mobile or inflamed sacroiliac joints (SI joints). Our sacroiliac belt for women and men is the number one Doctor and Chiropractors recommended SI belts to treat pelvic, lower back, and leg nerve pain.
SCIATICA PAIN RELIEF; YOU DESERVE THE BEST: We've got you covered! When you buy BLITZU hip support brace, you opt for quality. We don't just say it. We guarantee the highest quality product because your health deserves the best. That's why we want you to be 100% confident in your purchase and with each hip belt you get a 1 year warranty, no questions asked!
REDUCE LOWER BACK PAIN: BLITZU medical SI belt incorporates two adjustable double-pull tension straps to provide targeted support and deliver superior compression and stabilization from your L1 lumbar vertebrae to your sacrum, reducing lower back motion and prevent sacroiliac joint injuries.
SI BELT THAT WORKS: Our pelvic support belt provides optimal support before and after surgery. It works as a treatment alternative to surgery by reducing the sacroiliac pain caused by arthritis, traumatic injury, pregnancy, post-partum, systemic inflammatory conditions, and infection.
END THE PAIN TODAY: Our sacroiliac belt supports and compresses the SI joint to relieve back pain. It provides relief from low back pain along with referred pain in the hip, pelvis or sciatic pain.
SLIM LOW PROFILE DESIGN: Slim and comfortable to wear on top or underneath your clothes inconspicuously. Made of a comfortable mesh material which is both durable and breathable, even during extended periods of use.
Frequently Asked Questions About This SI Brace for Hip Pain
Q: What conditions does this SI brace treat? 
A: This hip brace is designed specifically to apply customizable compression, helping relieve symptoms such as inflammation of the sacroiliac joint and SI Joint, hip pain, pelvic or tailbone injuries, lumbrosacral instability, sciatica, arthritis, and trochanteric (hip) bursitis.
Q: How often should I wear it? 
A: With its lightweight, latex-free material, this hip brace can be worn 24/7 if instructed by a doctor. This brace is comfortable enough to wear while sleeping. It is suggested that you consult with a medical professional before wearing any brace for an extended period of time.
Q: Is the SI brace adjustable? 
A: Simply adjust the tension compression straps by pulling them tighter or looser.
Q: I have hip pain. How can this SI brace help me?
A: With this compression pelvic brace, you will find relief from coccyx tailbone pain, as well as stabilizing your lower back and hip joints during the recovery process. Using the "dual-tension" wraparound design, you can add pressure to specific sore or inflamed areas as needed.
Q: What makes this pelvic brace different from other hip support products?
A: The majority of hip braces found elsewhere do not provide rigid support. We offer the best hip brace on the market, featuring two tension compression straps to support your hip area to maximize your pain relief.
Q: Can it be machine washed?
A: Hand wash with mild detergent in warm water. Let the product air dry completely before reapplying. Avoid using high temperatures when washing or drying.