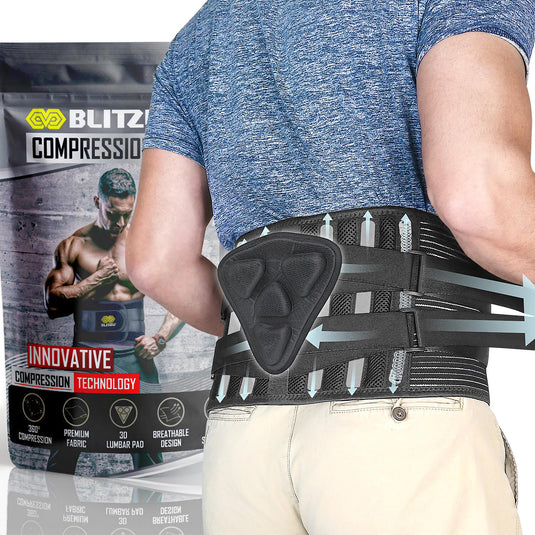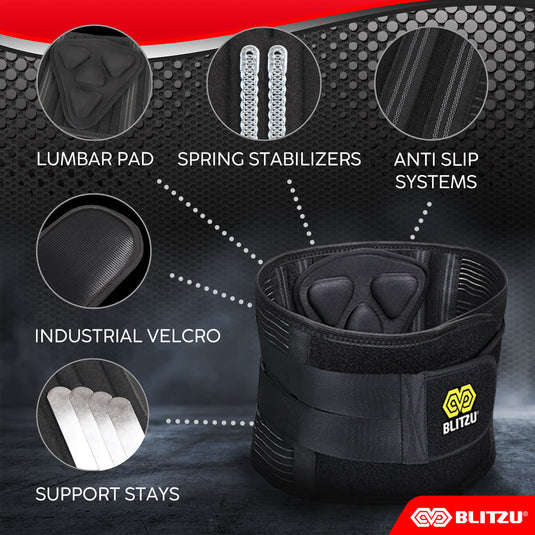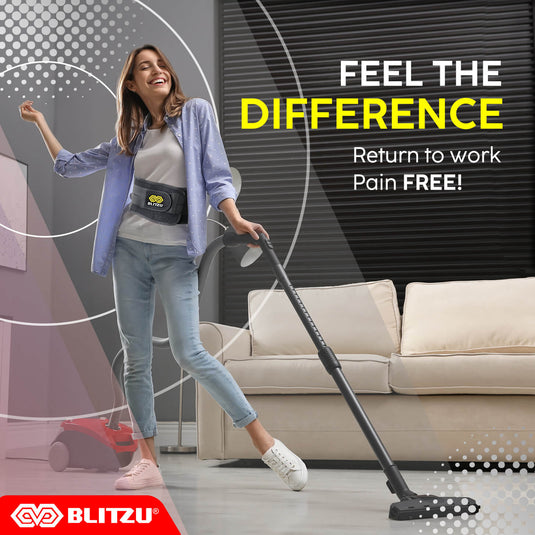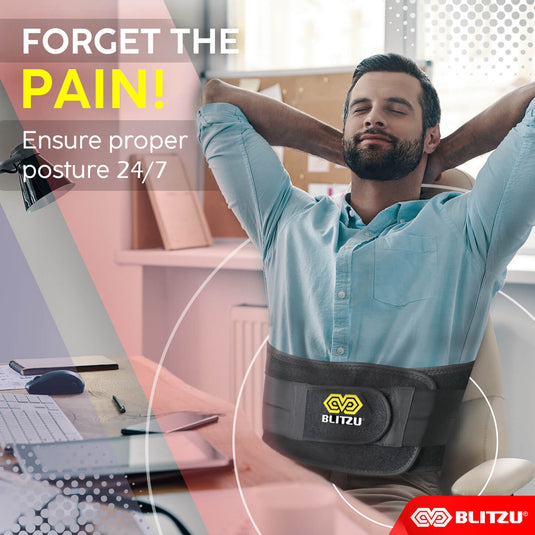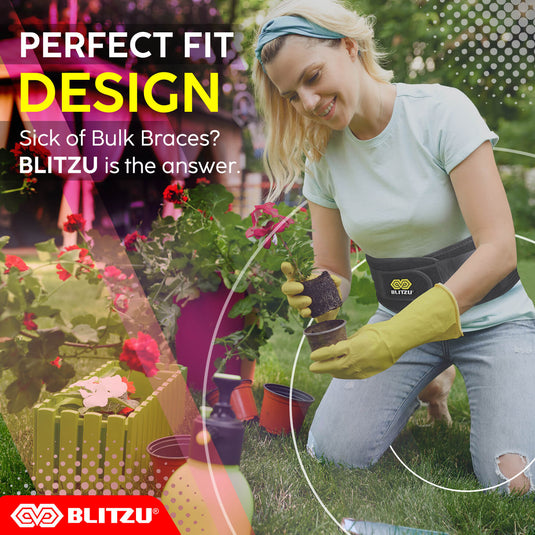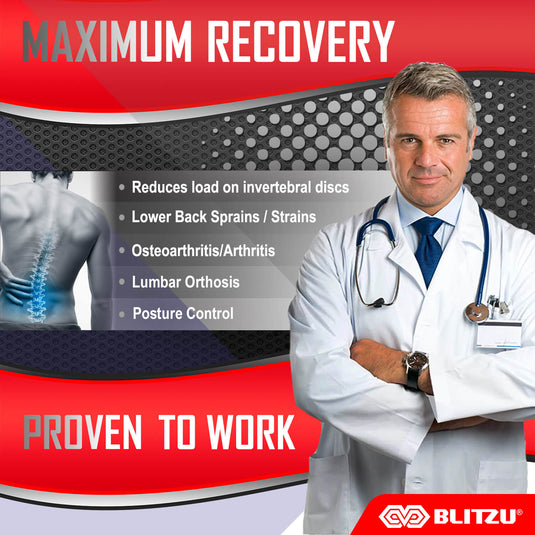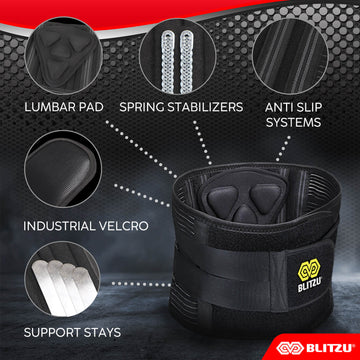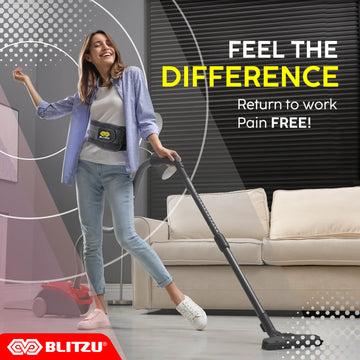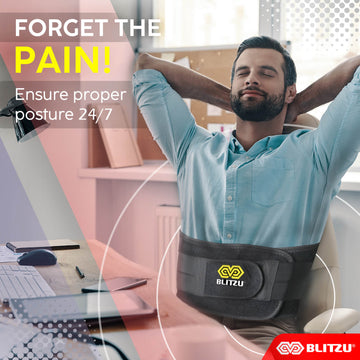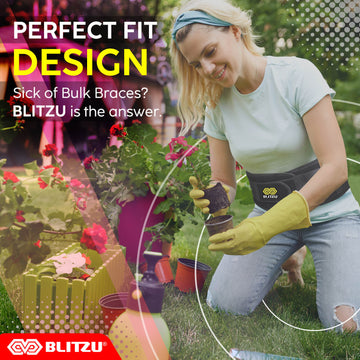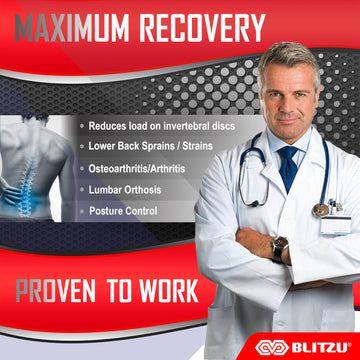 Product Description
The Performance™  Back Brace provides immediate pain relief for sciatica, lower back pain, upper back pain, as well as back muscle pain caused by a herniated disc. The 3D lumbar support pad fits closely to your back, providing maximum support to your lumbar region. The 4-way adjustable compression straps with four aluminum vertical support stays and two steel springs provide adequate support in the lower back areas to help maintain proper posture and alignment during daily workouts, heavy lifting, gardening, or simply doing household chores.
Why Do I Need a Back Brace?

A back brace can help you by providing additional support for your spine and muscles. By keeping your body in the proper posture, it will help keep pressure off your spinal nerves, muscles, and joints, which can help decrease your pain. Using a back support can help you go through your daily activities without causing additional strain to your back especially with activities like bending and lifting. A back brace can also help an acute injury heal faster and prevent further injury to an already injured area. 

if you are suffering from hip pain or SI joint pain. Check out our hip brace.
Benefits of a Back Brace:

Less strain and more spinal support when lifting heavier objects.
Better immobilization, leading to stronger and faster recoveries.
Stabilization of the problem area, providing support and promoting better movements.
Compression of the weakened areas, reducing pain in the region.
Stronger transitional support, making regular actions such as lying down easier.
Better overall support, sometimes serving as a viable alternative to surgical procedures.
Here are some of the features of the lumbar brace for pinched nerve treatment:

INSTANT BACK PAIN RELIEF - Our back brace is the top selling lower back pain relief products and recommended choice of physical therapists, chiropractors, and back pain professionals around the world. It gives you immediate pain relief from your sciatica, pinched nerve, lower back, upper back, herniated disc, and back muscle pain.

3D LUMBAR CUSHION PAD - Featuring specially designed contours, our lumbar support pad fits closely to your back, providing optimal support to your lumbar region for maximum back pain relief. It fits organically to relieve lower back pressure and provide extra support for anyone who work, stand, or sit for long hours & experience back pain.

ORTHOPEDIC DESIGN TO IMPROVE POSTURE - Blitzu back support belt equipped with 4 aluminum vertical support stays along with 2 steel springs which provide adequate support in the lower back areas to ensure proper posture and spine alignment during daily workouts, heavy lifting, gardening, or just doing housework.

SUPERIOR COMPRESSION, PREVENT BACK INJURIES - This medical back brace incorporates two adjustable double-pull Velcro tension to provide targeted support and deliver superior compression and stabilization from your L1 through S1 vertebrae, reducing lower back motion and prevent back injuries.

YOU DESERVE THE BEST - We've got you covered! When you buy Blitzu back brace, you opt for quality. We don't just say it. We guarantee the highest quality product because your health deserves the best. That's why we want you to be 100% confident in your purchase and with each back brace you get a 1 year warranty, no questions asked!

FORGET ABOUT PAIN - Our Back Brace gives you immediate & lasting relief from a herniated disc, sciatica, back pain, sore muscles and other back conditions. Wear it when you walk, bend or stretch. Enjoy the freedom of movement!

PREVENT BACK INJURIES - Back support with 2 elastic straps are designed to add extra compression around lower back to prevent back injuries from weight lifting, long time standing or sitting, doing housework, working, etc. Relief waist muscles ache, herniated disk, sciatica, scoliosis etc when wearing the back belt.

WELL WEAR UNDER CLOTHES - The back support made of 4-way stretch elastic material,3D knitting technology by different compression levels, for superior fit, breath and comfort. The inner layer is made of velvet fabric, giving an ultimate baby-skin-like silky touch, perfect for dressing internally.
Frequently Asked Questions About This Back Brace for Lower Back Pain
Q: What conditions does this brace treat? 
A: This back brace for sleeping is designed to provide relief from lower back pain, muscle strains, tears, or pulls, bulging discs, herniated discs, scoliosis, sciatica, spondylolisthesis, and hip pain. The device is able to relieve excessive pain in the lumbar spine caused by morbid obesity.
Q: How often should I wear it? 
A: With its lightweight, latex-free material, this brace can be worn 24/7 if instructed by a doctor. This brace is comfortable enough to wear while sleeping. It is suggested that you consult with a medical professional before wearing any brace for an extended period of time.
Q: Is the brace adjustable? 
A: Simply adjust the tension compression straps by pulling them tighter or looser.
Q: I have

back

pain. How can this back brace help me?
A: This back brace has 4 steel plates and 2 flexible metal springs to provide support. Plates are curved to follow spinal curves. As you wear it, the plate pushes against your spine, preventing your spine from bending. As a result of this posture, pinched nerve pain is reduced.
Q: What makes this back brace different from other back support products?

A: The majority of back braces found elsewhere do not provide rigid support. Some may have soft plastic strips that are ineffective. We offer the best back brace on the market, featuring four steel plates and two support springs, as well as a 3D lumber supporting pad to maximize your pain relief.
Q: Can it be machine washed?
A: Hand wash with mild detergent in warm water. Let the product air dry completely before reapplying. Avoid using high temperatures when washing or drying.