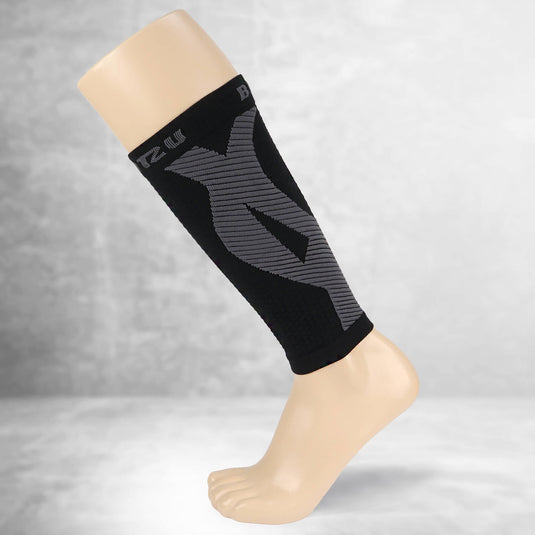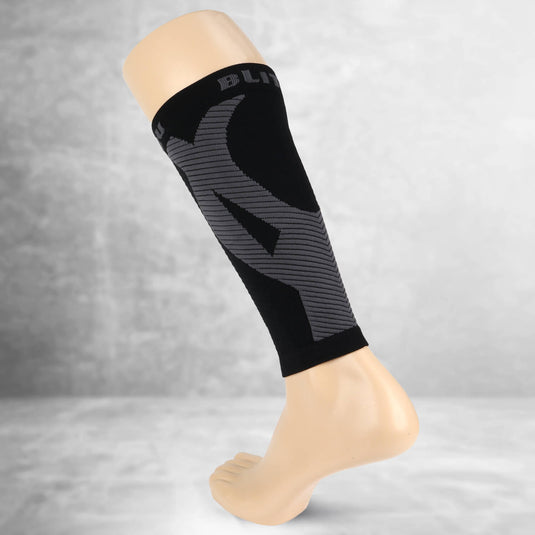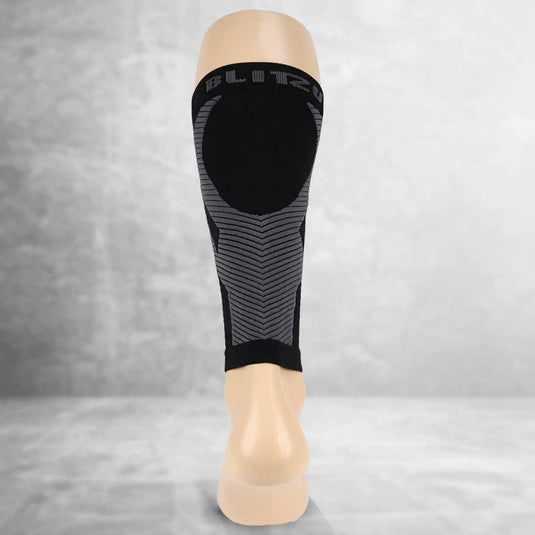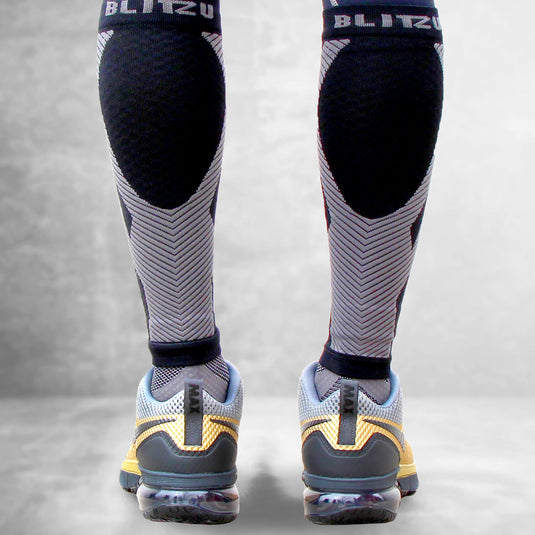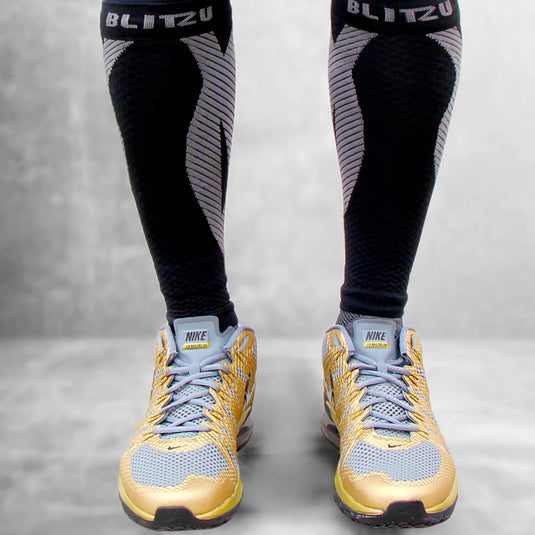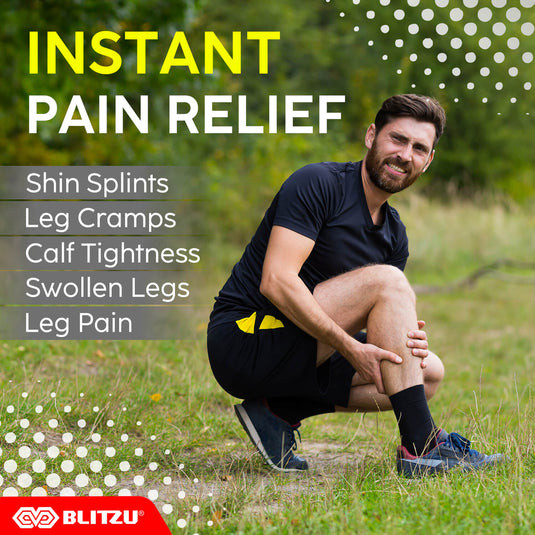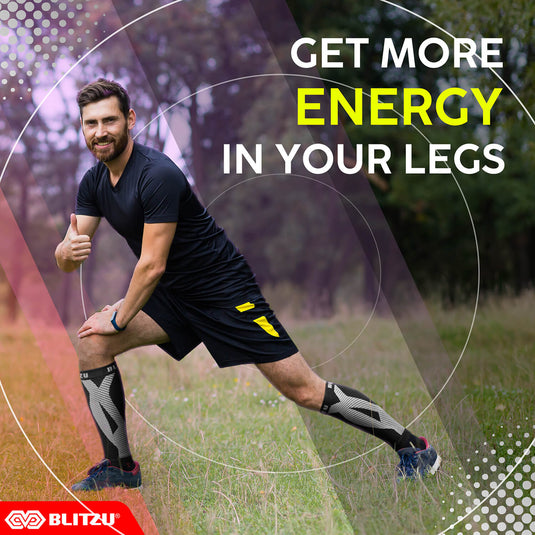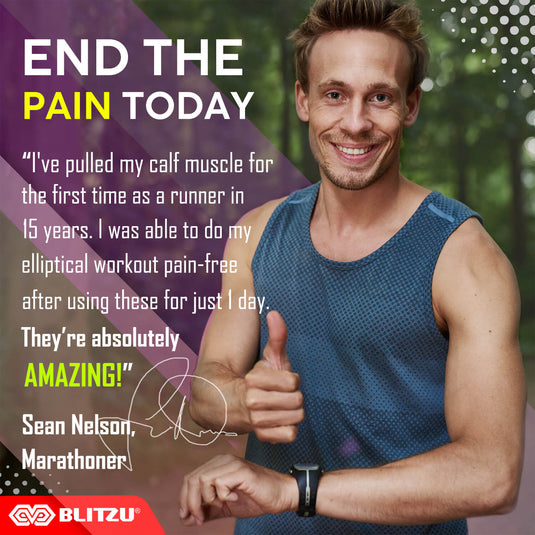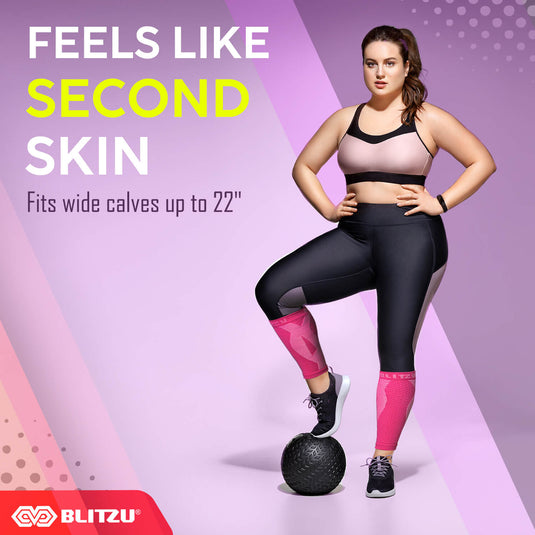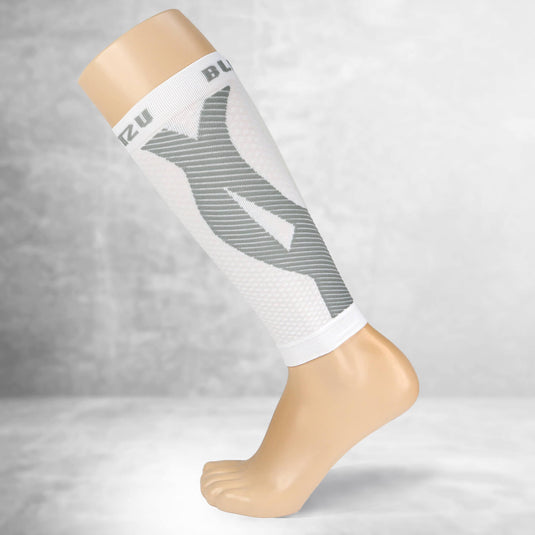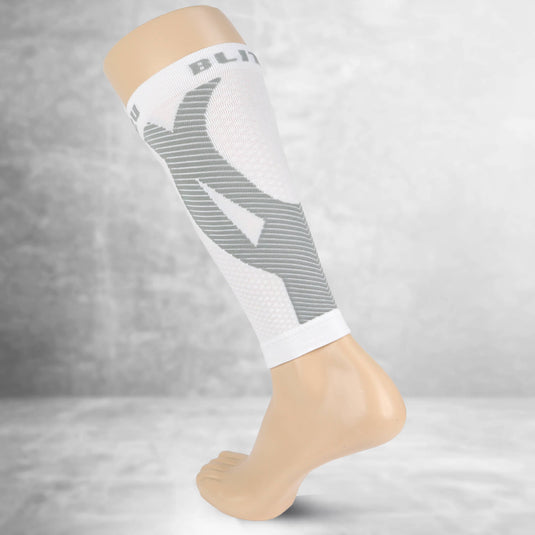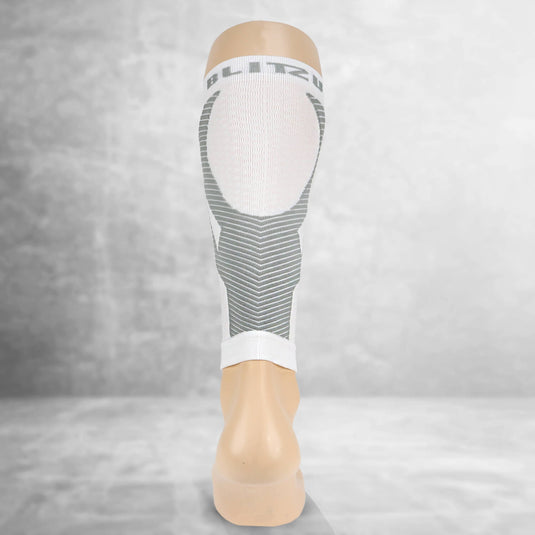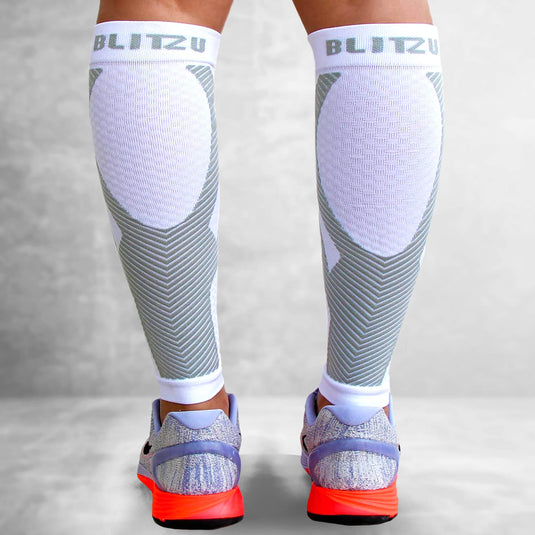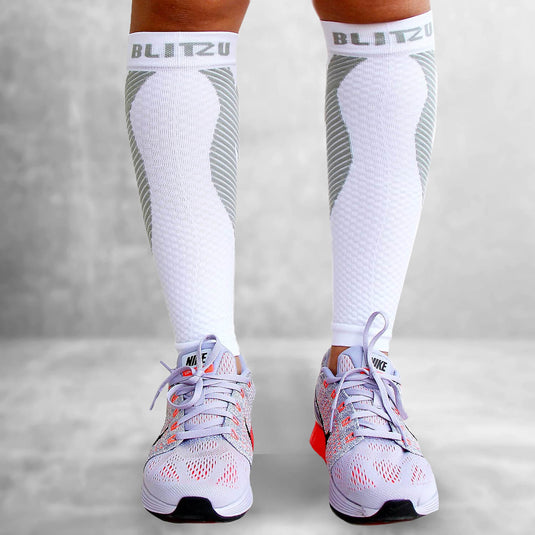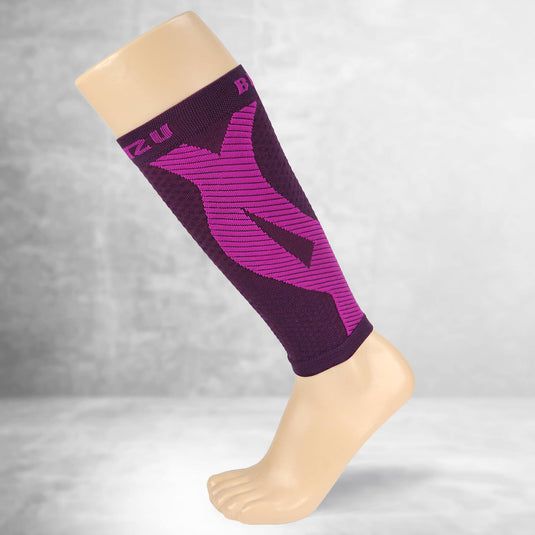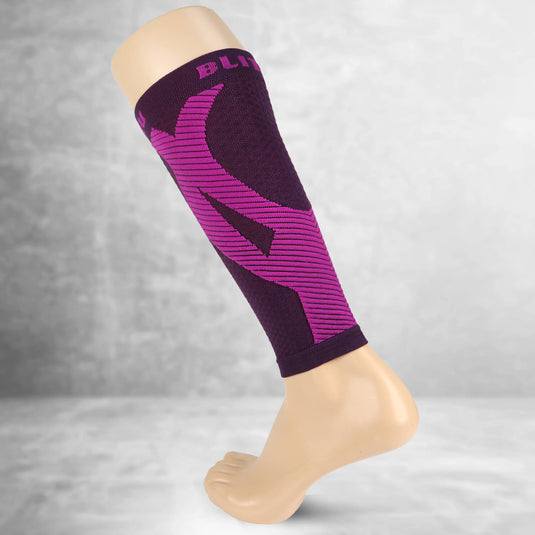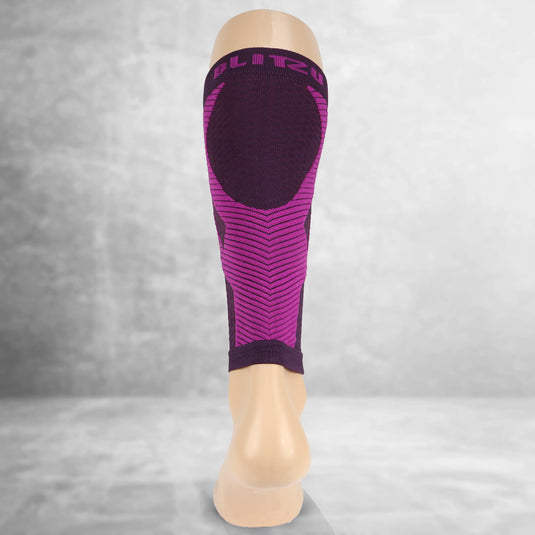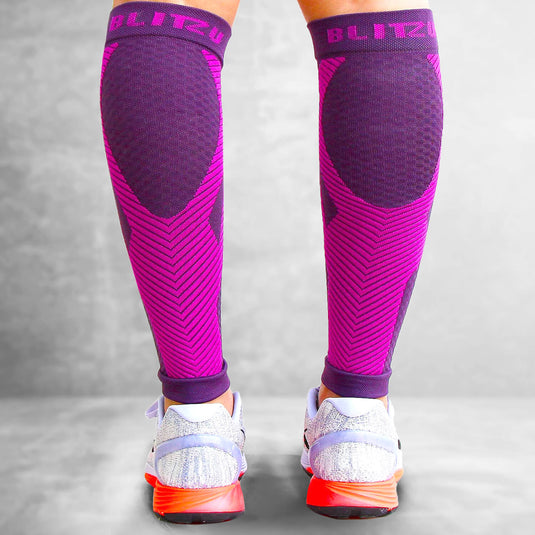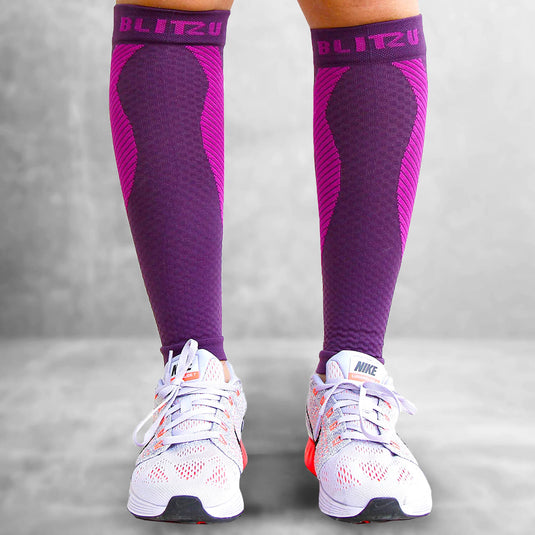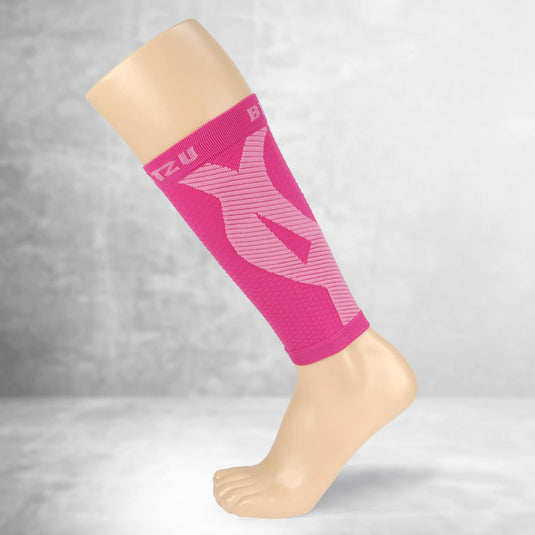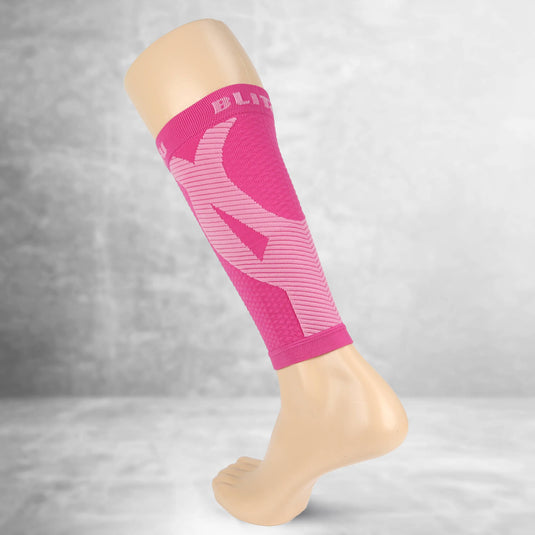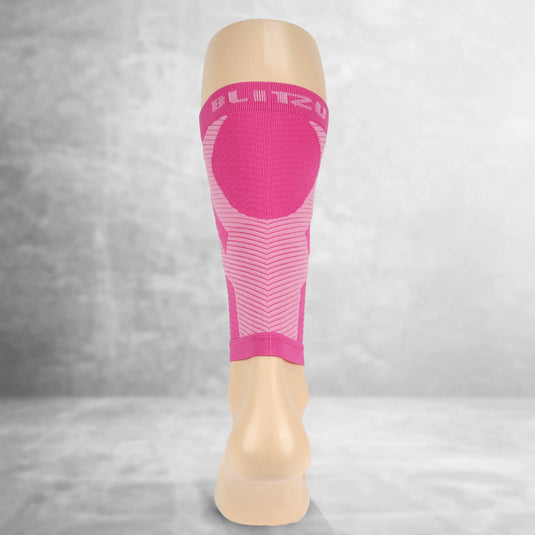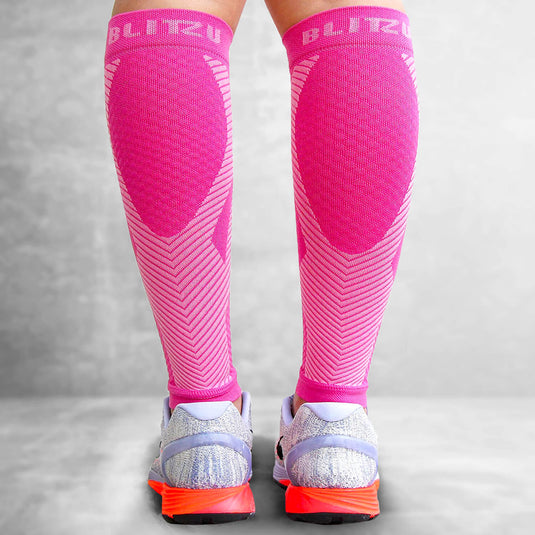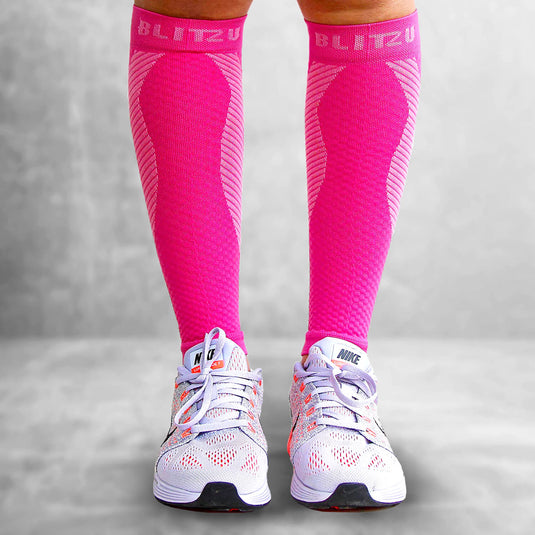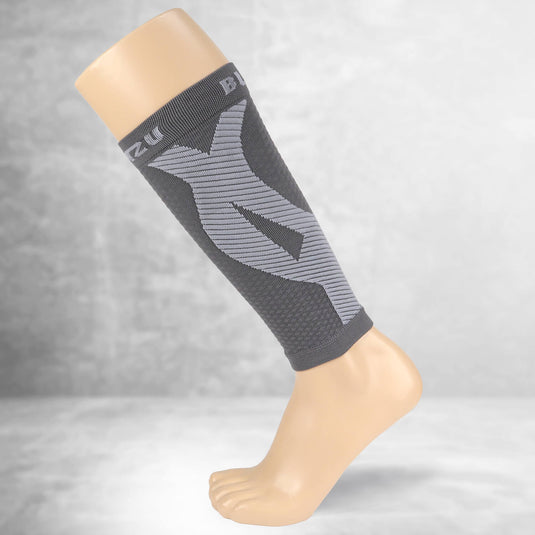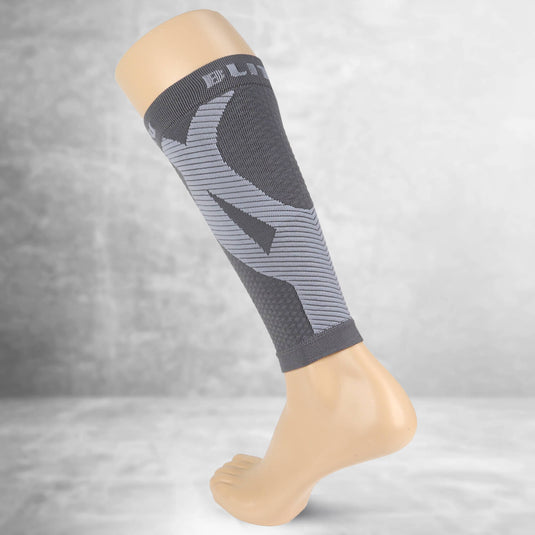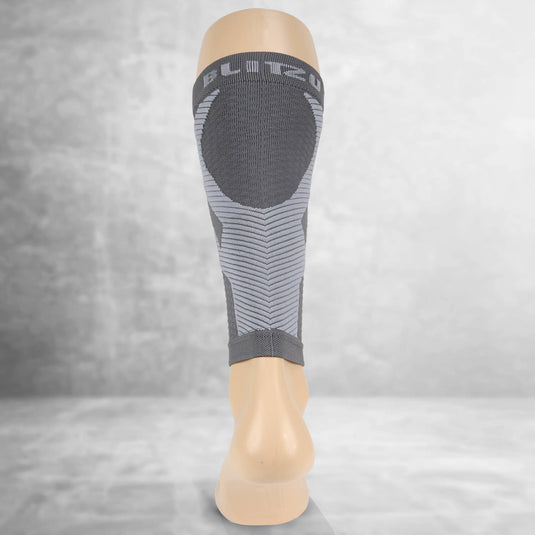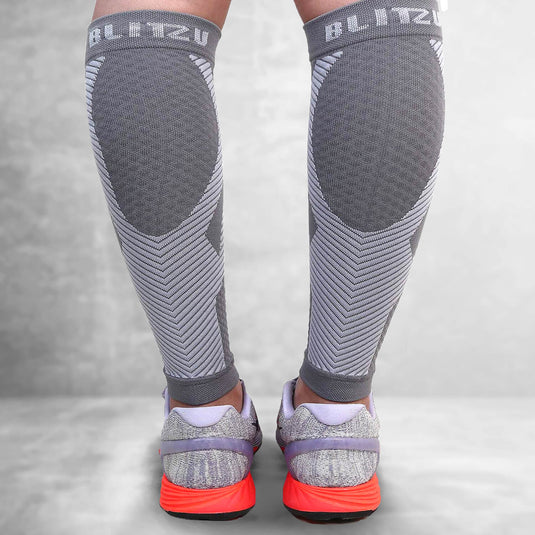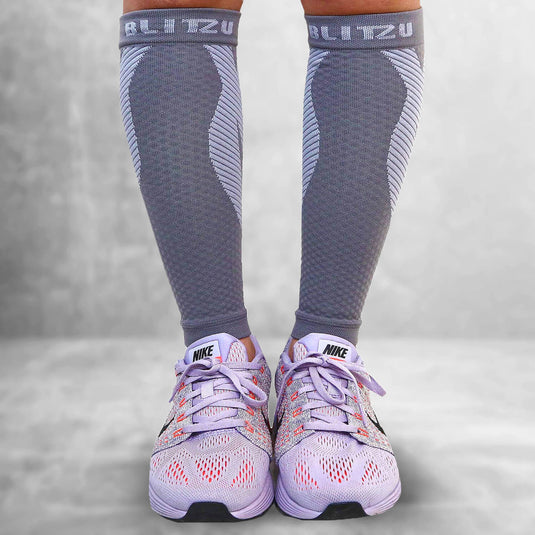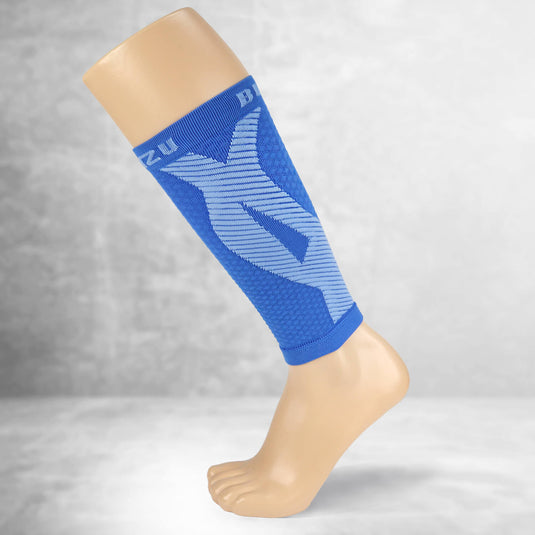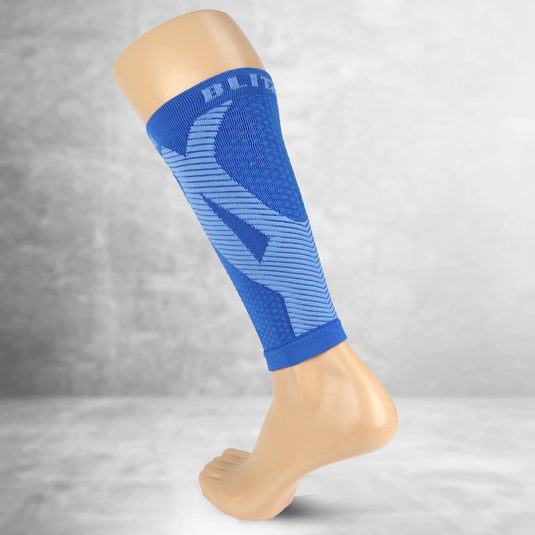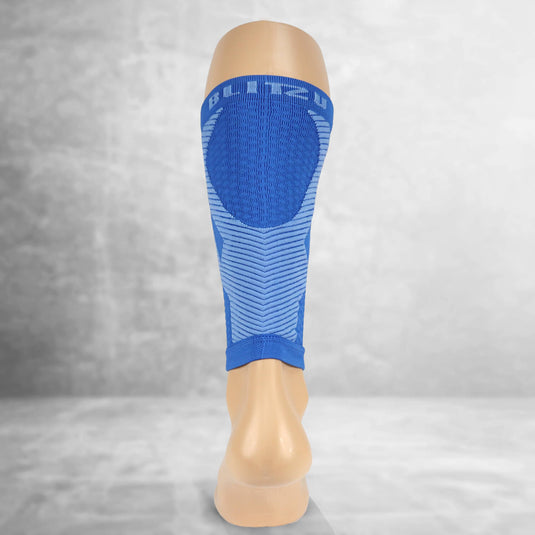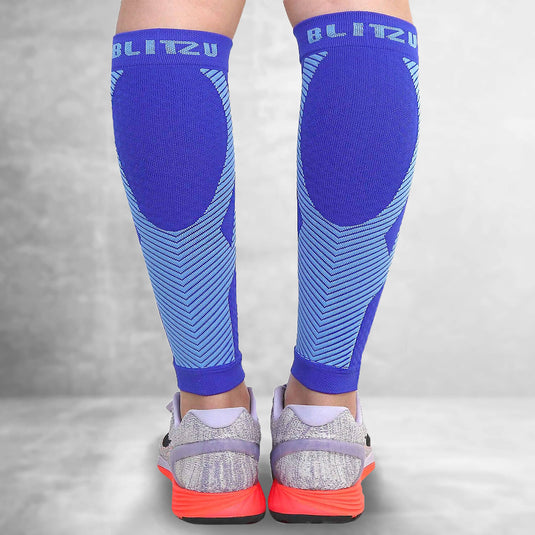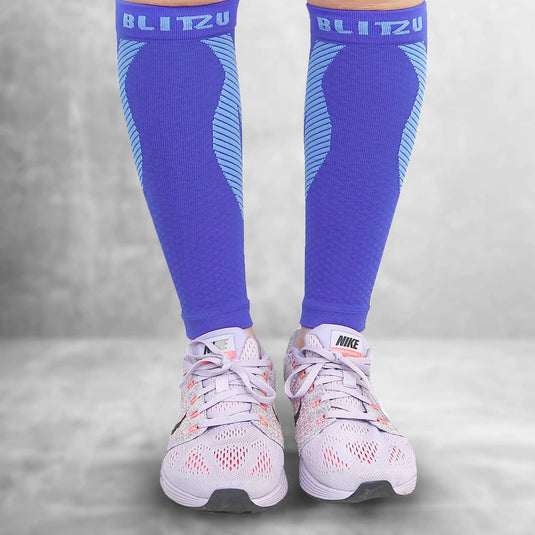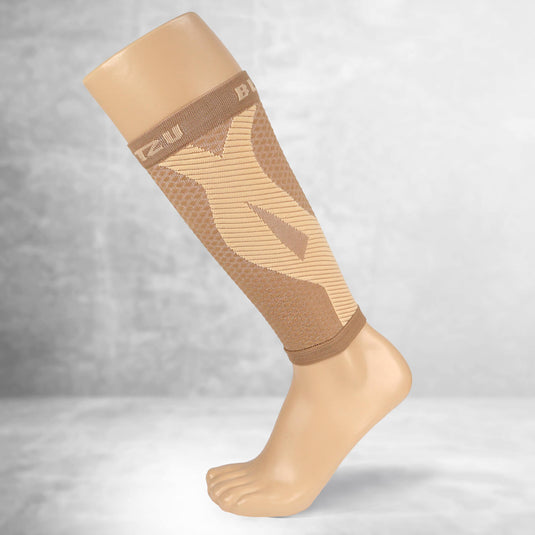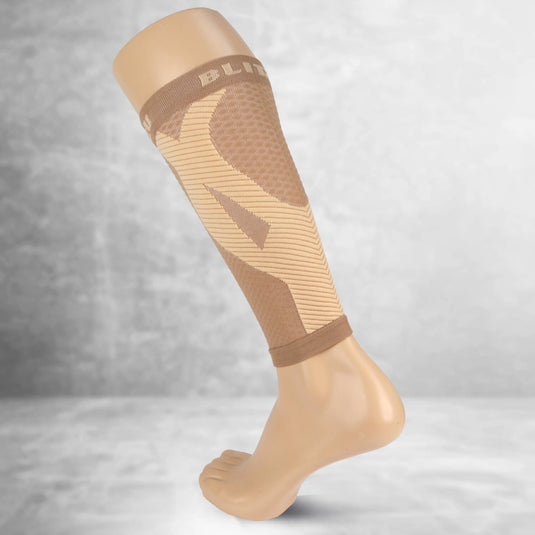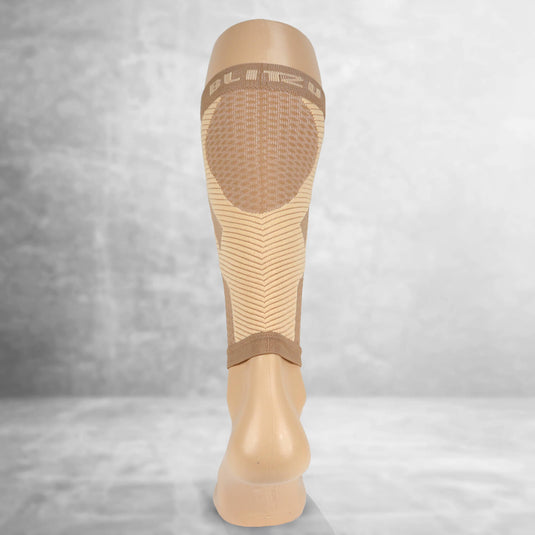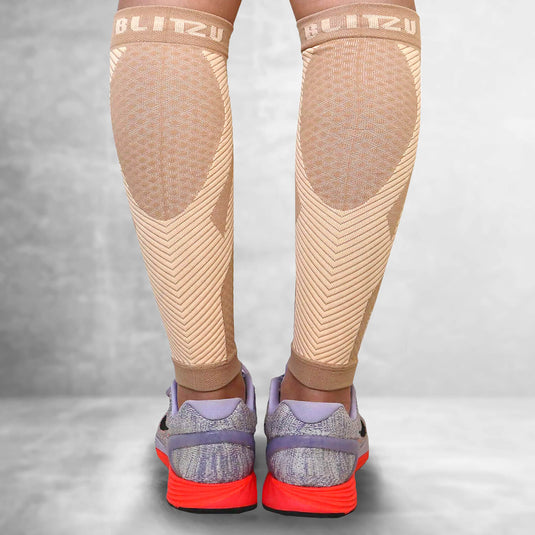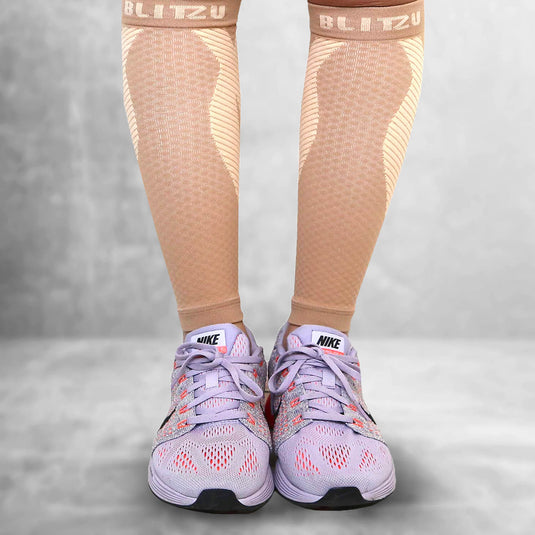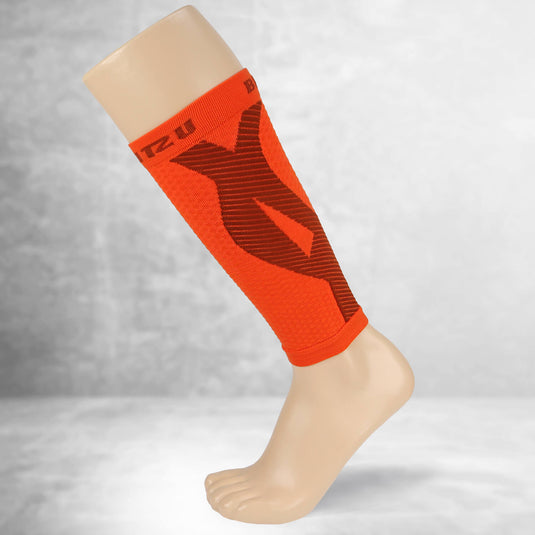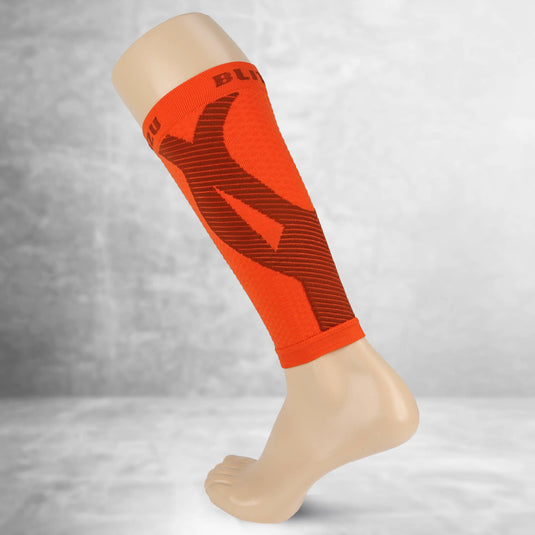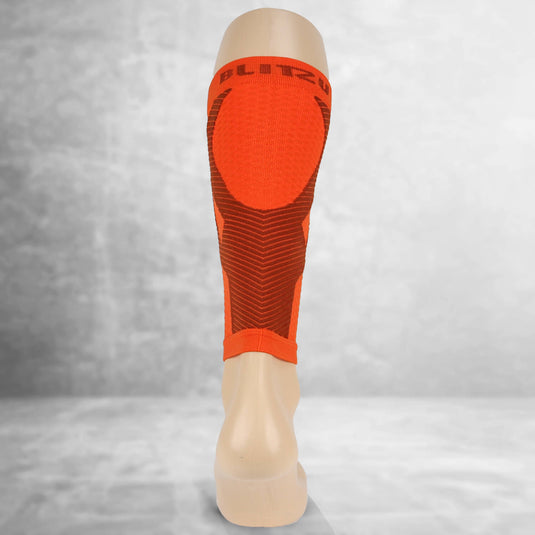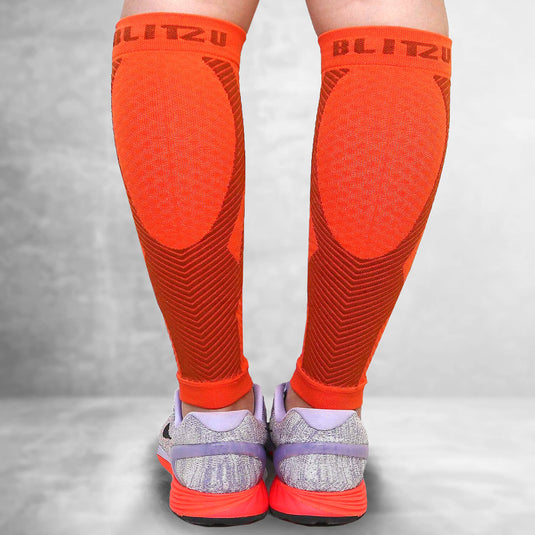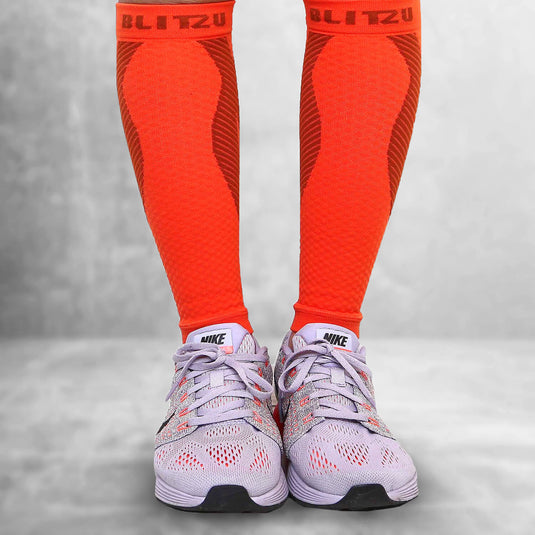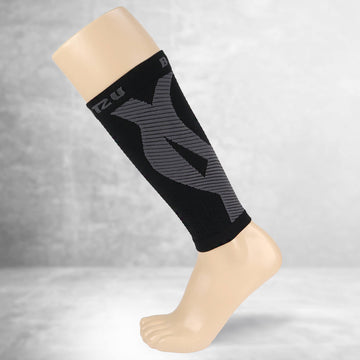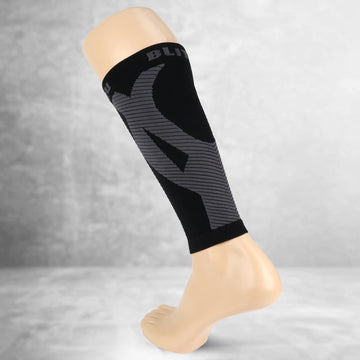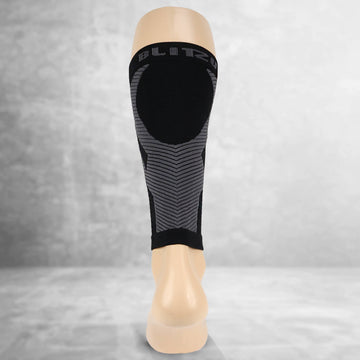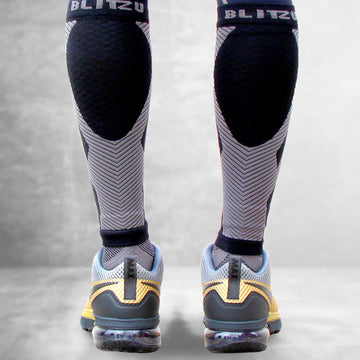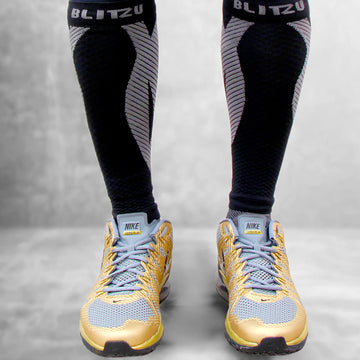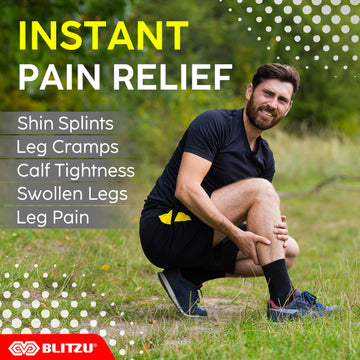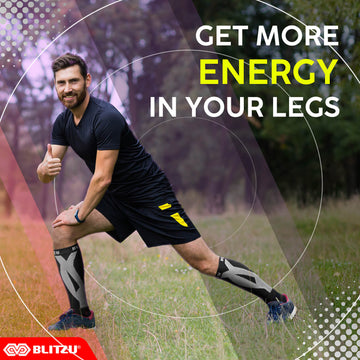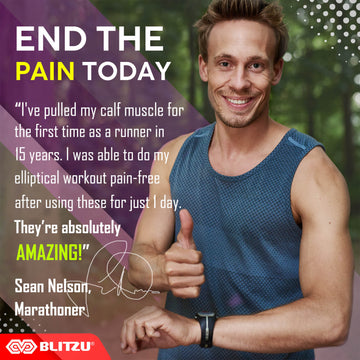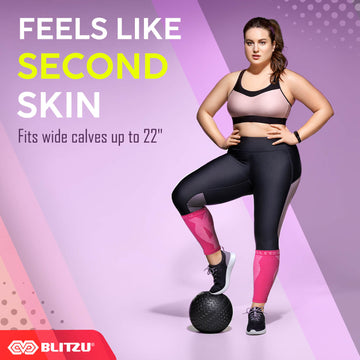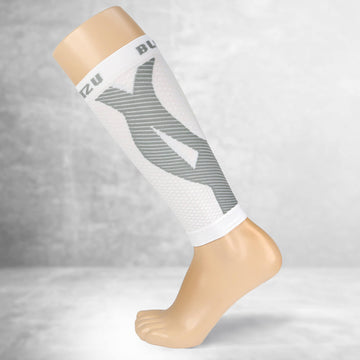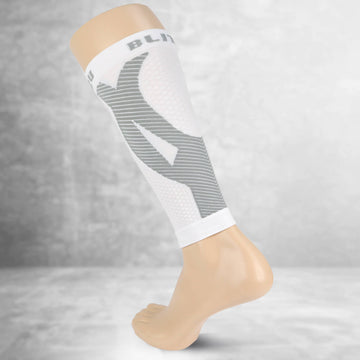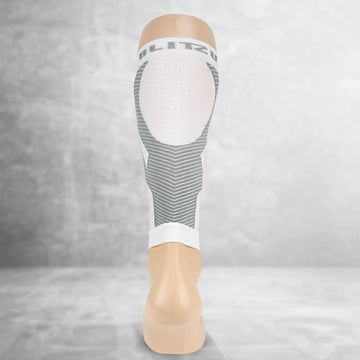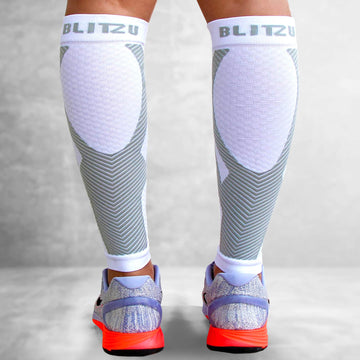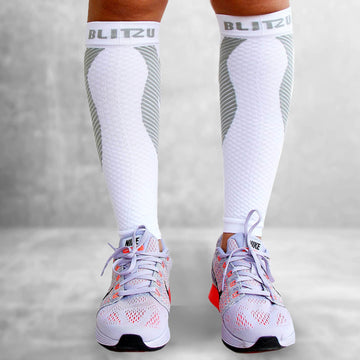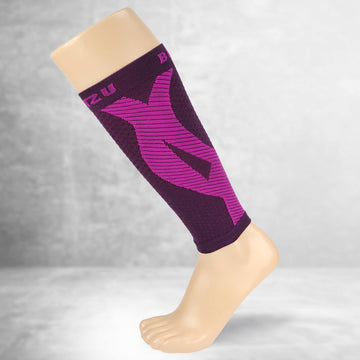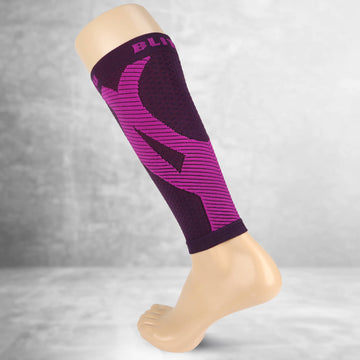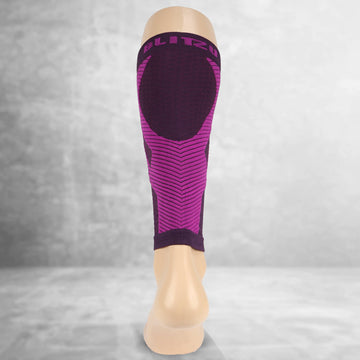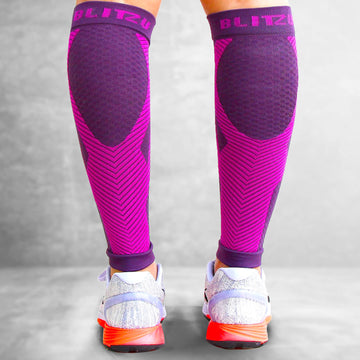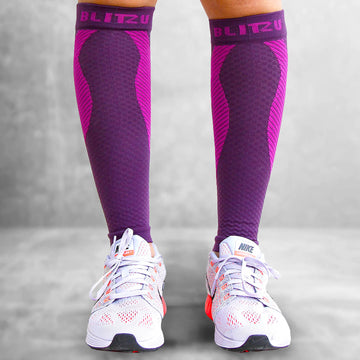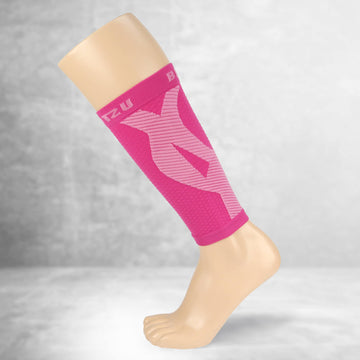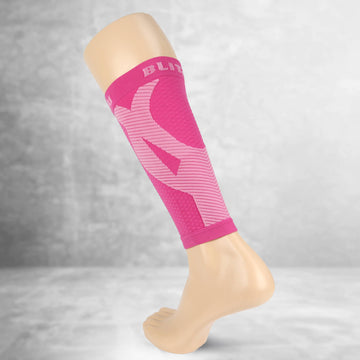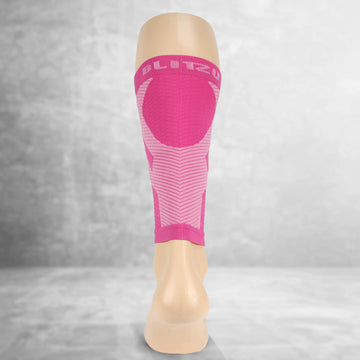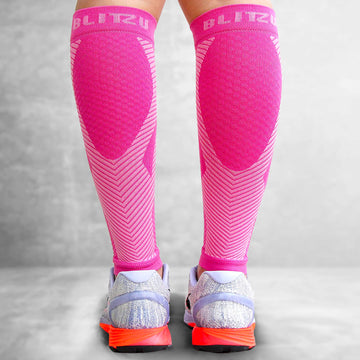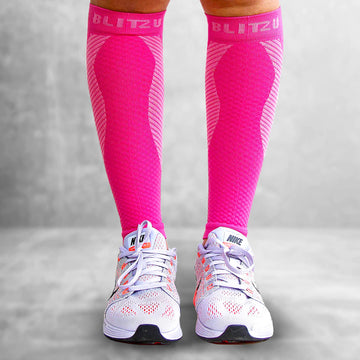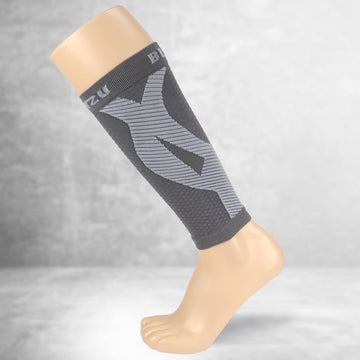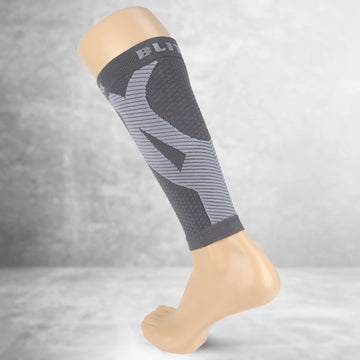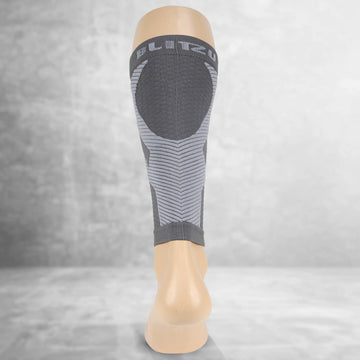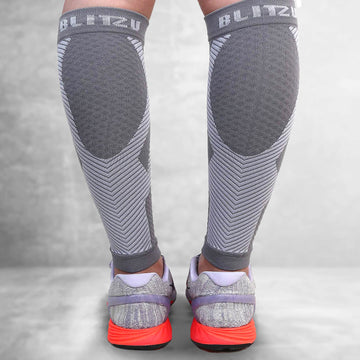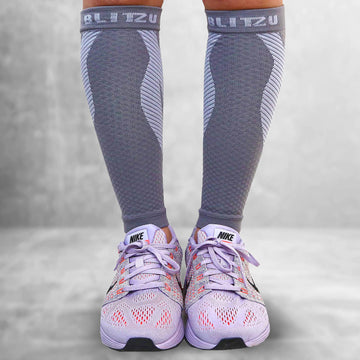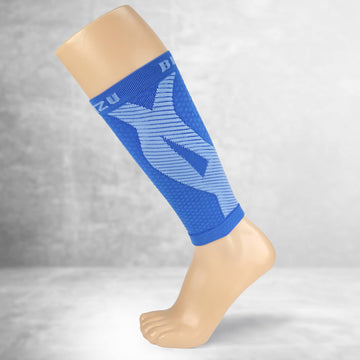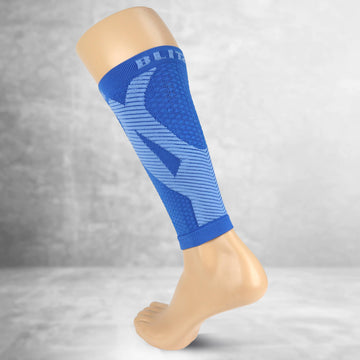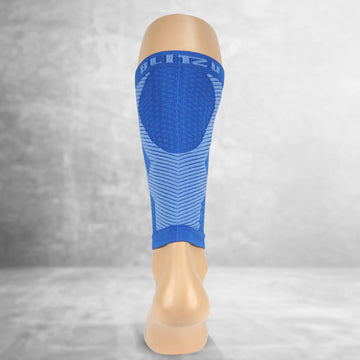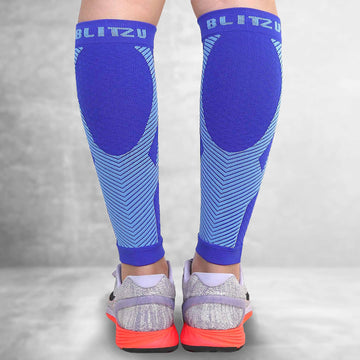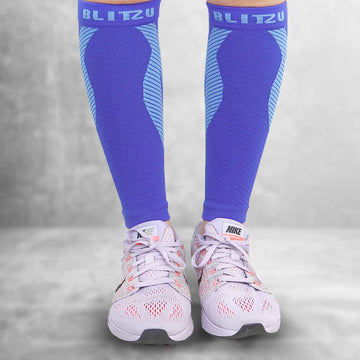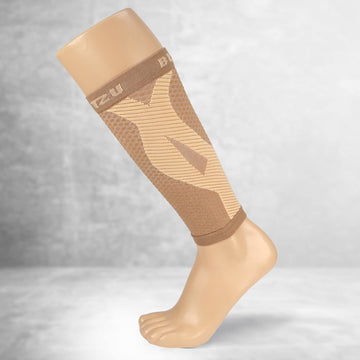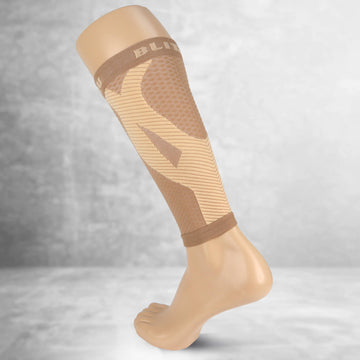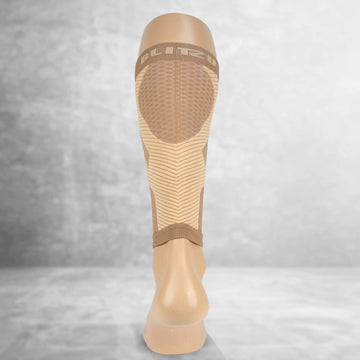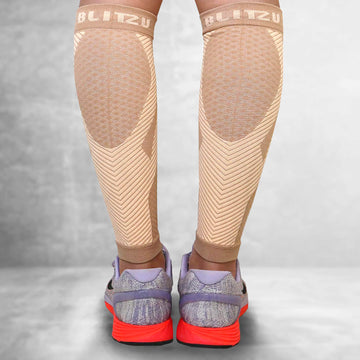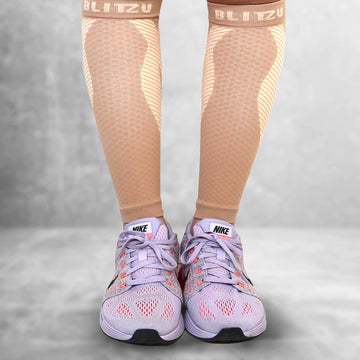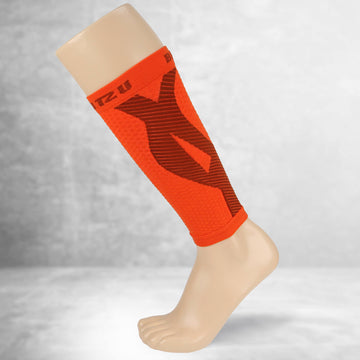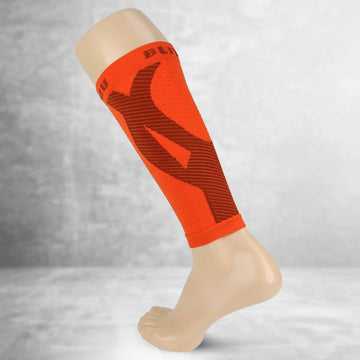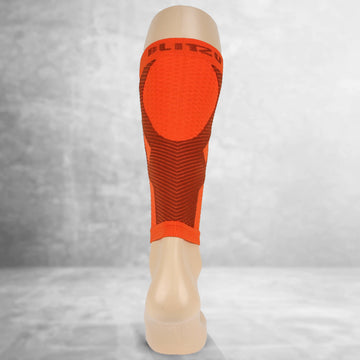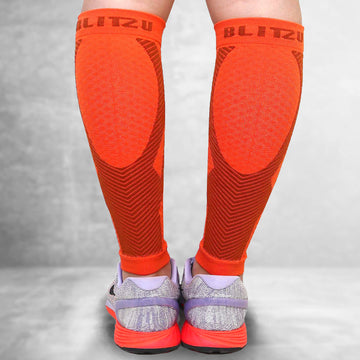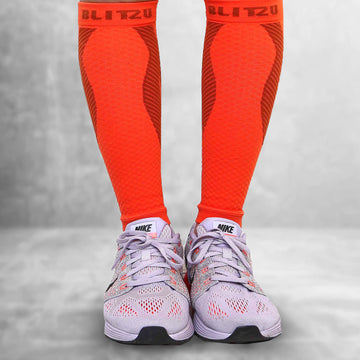 Product Description
How Can BLITZU Calf Sleeves Help You?
Leave the ice and pain medications at the door. Fight pain, recover and get back in the game naturally with BLITZU Performance™ Calf Sleeves. Our calf compression sleeves activate your body's natural pain-relieving mechanisms and provide targeted support for key ligaments, tendons and muscles in and around your calf and shin area. Whether you're a seasoned athlete, or you're going "couch-to-10K", whether you're a nurse, frequent traveler, or someone who is constantly on the go, BLITZU calf compression sleeves will help you feel better.
Alleviate Calf & Shin Pain
Eliminate Varicose Veins
Prevent Achilles Tendon & Embolism
Prevent Edema & Lymphedema
Decrease Swelling in Lower Legs
Prevent Muscle Strain & Injury
Improve Blood Circulation
Speed up Recovery from Injury
Boost your Performance
Why Should You Choose Calf Compression Sleeves Over Compression Socks?

Compression sleeves are more customizable, in a sense that you will be able to tailor the foot part and the calf part of your running gear more effectively. Admittedly, not everyone wants to have compression around their feet but would benefit from some compression around the calves. This means you can wear cushioned running socks with a compression sleeve and run in maximum comfort while also enjoying the benefits of compression around the calves.
There are also runners who have large feet and small calves: they might not be able to find the perfect compression socks, large enough for their feet but without being too loose around the calves. Being able to wear fitting foot and calf protection might only be achievable by getting separate socks and calf sleeves.
Since compression sleeves don't go into the shoes either, they will less likely get holes in them. There is no heel rubbing or toenails working through the fabric when wearing compression sleeves so these garments will probably serve you longer than performance compression socks.
Most importantly, the design of compression sleeves is generally better and rather vibrant, which might be a deciding factor for those who prefer to run in style.
How long should you wear calf sleeves?

There is no rule about how long you should wear calf sleeves. It's more important to understand when to wear them and when not to wear them.
It is okay to wear calf sleeves during exercise and up to 12 hours afterward if you are injury-free and exercising. Depending on how intensely you exercise and how active you are afterward.

A calf strain is most likely to be treated with a calf sleeve in order to control pain and swelling, especially in the early stages of healing.
Follow the general timelines above, but make sure your calf sleeve fits properly around your leg. Be sure to follow the instructions carefully and make sure the sleeve doesn't restrict your blood flow.

The early stages of calf strain may require you to rest a lot.
It is recommended to move around or sit upright when wearing calf sleeves. If you are going to lie down for more than two hours (injured or not), you don't need extra compression and you should remove any compression gear (unless your doctor tells you otherwise).
The gravity in your legs can slow down your blood flow if you're sitting. When you fly,
compression socks
are recommended to assist your veins in returning blood to your heart.
How do compression sleeves work?
Wearing compression garments, such as calf sleeves and compression socks, improves circulation, promotes healing, and reduces swelling. 
Improved circulation
The majority of calf compression sleeves apply graduated pressure to the calves. Fluid is directed away from your calves and towards your heart with this 'tighter at the bottom - looser at the top' design.
Blood flow
Calf sleeves increase blood flow back to your heart by gently increasing pressure in your veins. It stimulates your circulatory system, which ensures your calf muscles get 'fresh' (oxygen-rich) blood into them, and 'old' (oxygen-poor) blood out.
The more oxygen your muscles have, the better they heal from muscle injuries like calf strain. Once your muscle strain has healed, you will continue to reap the benefits of wearing calf sleeves. By increasing blood flow and oxygen (which fuels your muscles), you may run faster and further, for longer periods of time.
Lymphatic flow
Calf sleeves also increase lymphatic vein pressure. Your lymphatic system removes waste products from your muscles. The process also removes old or injured cells from the area so that new ones can grow.
Lymphatic circulation improves pain relief and reduces swelling. Furthermore, it helps heal injured tissues during and after exercise or injury.
Muscle oscillation
A compression sleeve can reduce muscle oscillation - the vibrations that occur in your muscles when you walk or run.
Your calf muscles will be sensitive to most movements when you have a calf strain. It can be painful to walk even a few steps. By using a calf sleeve, you can 'splint' the injured area, which reduces muscle vibration and protects your calf from future injuries.

You may experience less muscle fatigue, micro-injuries, and post-exercise soreness during your return-to-running program if you have less vibration in the calves.
Warmth
During exercise, compression sleeves can keep your muscles warm. A warm muscle has better blood flow and is less likely to fatigue and be injured. If you run in colder climates or temperatures, calf sleeves may benefit your training. Additionally, they can prevent calf strains and re-injuries.
Sensation
Running with calf compression sleeves can improve your reflexes and body position sense.

By having better sensation and reflex responses in your legs, you will be able to maintain better posture and balance. As a result, you will also be able to respond more quickly to sudden changes in the environment. Additionally, it reduces your chances of re-injuring your calf once you return to running, especially over longer distances when fatigue may affect your form.
Check out our full collection of compression sleeves.
Features:
LEG & CALF PAIN RELIEF: Calf compression sleeve for men & women support the calf muscle, provide pain relief and help relieve leg cramps & fatigue. Our leg compression sleeve maintains your calf muscle stability during exercise or running to avoid varicose veins, shin splints, restless legs syndrome, muscle pulls, soreness, leg fatigue & torn calf muscles.

SHIN SPLINT RELIEF: If you suffer from the pain of shin splints and never use our footless compression socks for women & men, then you've missed a lot. BLITZU calf compression sleeves are designed to energize your whole tired legs assist, boost circulation in your calf, and build your muscle strength to help reduce the stress caused by shin splints. Our calf sleeves are essential running accessories and marathon running gear. Perfect for extreme races, marathon and long runs!

KINESIOLOGY TAPING TECHNOLOGY: Patent and designed in New York, USA. The embedded kinesiology strips provide support, stability and pain reduction throughout your calf. You'll be able to naturally alleviate pain and recover from injuries using the same kinesiology technique shared by doctors, chiropractors, and physical therapists.

BOOST YOUR PERFORMANCE: Our footless compression socks are great for jobs that require you to be on your feet a lot. Our compression leg sleeves are ideal for daily use in traveling, volleyball, running, cycling, basketball, exercise, football, and are preferred by doctors, nurses and pregnant women.

SPEEDY RECOVERY: Leave the ice and pain medications at the door. Fight pain, recover and get back in the game naturally with BLITZU calf sleeves. Our leg compression sleeves relieve your leg fatigue by activating the natural pain-relief mechanism of your body and provide targeted support for key ligaments, tendons and muscles in and around your calf and shin area.

VARICOSE VEINS TREATMENT FOR LEGS: Having cramps in your legs every night is not a good thing for anyone. BLITZU calf sleeves offer graduated compression and warm up your legs throughout the long night, reducing leg cramps, and ensuring a good night's sleep. It is also suitable for calf tightness, stiffness, varicose veins, swelling, and other calf conditions.

Frequently Asked Questions About These Compression Calf Sleeves
Q: What conditions does this calf sleeve treat? 
A: Our leg compression sleeve maintains your calf muscle stability during exercise or running to avoid varicose veins, shin splints, restless legs syndrome, muscle pulls, soreness, leg fatigue & torn calf muscles.
Q: How often should I wear it? 
A: You can wear them during the day or at night, but do not wear them for longer than 12 hours at a time.
Q: What are the benefits of these calf sleeves?
A: With these lightweight socks sleeves, your calf will be wrapped in soothing, comfortable compression, which will relieve pressure on injured nerves, boost your performance, and improve blood flow circulation.
Q: Are these calf compression sleeves suitable for everyone?
A: These sleeves are available in sizes S-M to XXL, fitting a wide variety of adults including men and women, teenagers, and children.
Q: Are these calf sleeves sold in pairs?
A: Yes! There are two sleeves in each package. They can be worn as a pair or separately based on your needs.
Q: How should I choose a size?
A: Check out our sizing chart above to determine your size.
Q: What is the material of the product?
A: They are made of nylon and spandex, and they have a compression level between 20 and 30 mmHg.
Q: How should I wash the calf sleeve?
A: We recommend machine washing the calf sleeves in cold water with a mild detergent on delicate. Please allow the sleeves to air dry completely before reapplying.