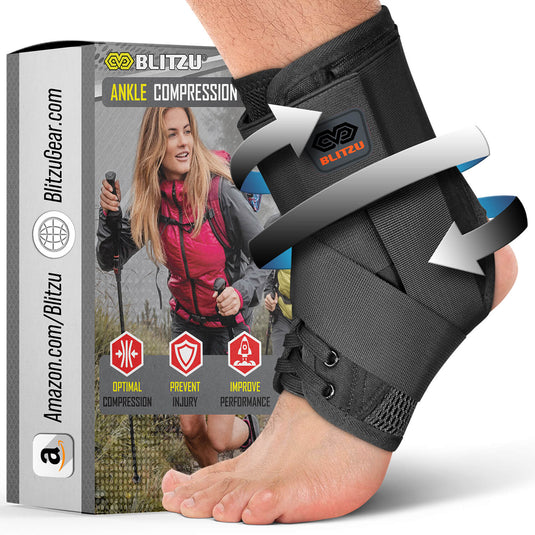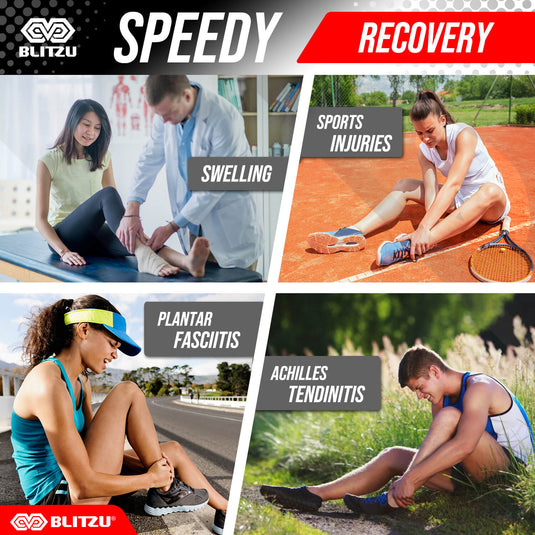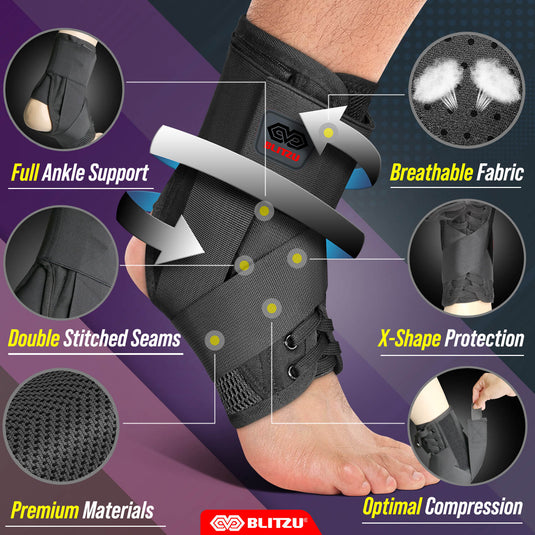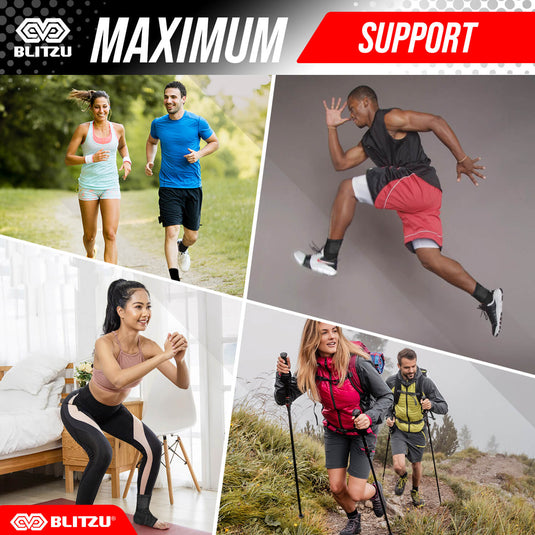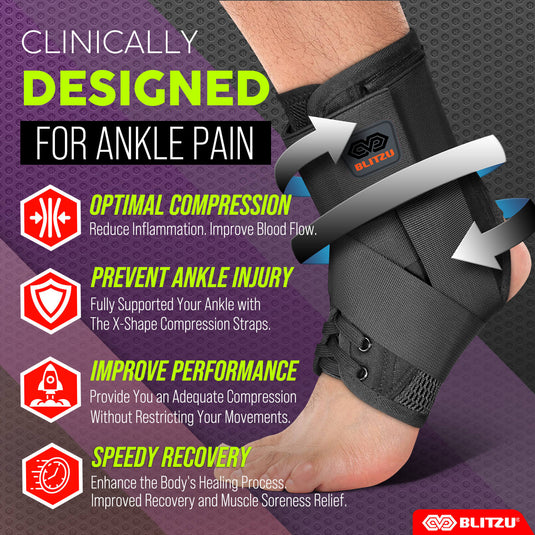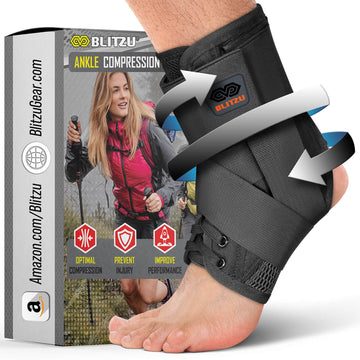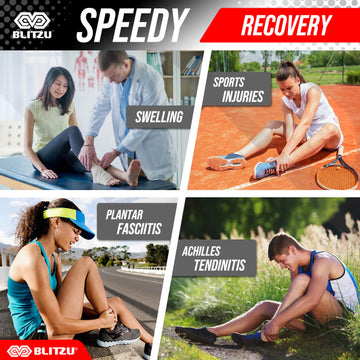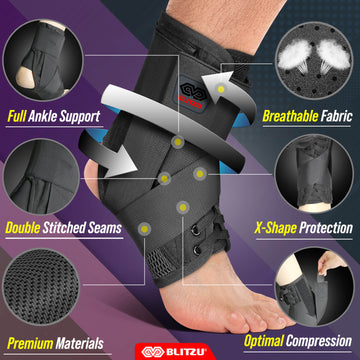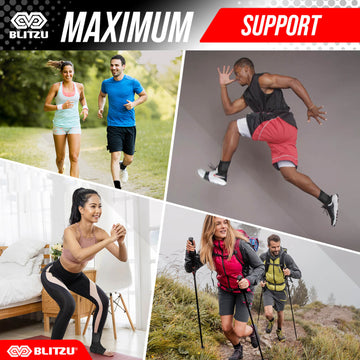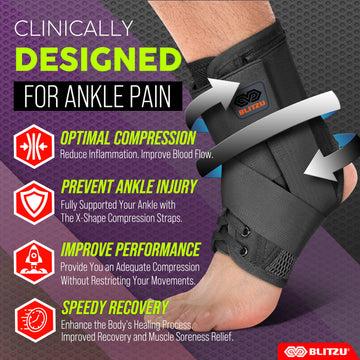 Product Description
Why should you wear this ankle brace?
Our Lace-Up ankle brace is a low-profile and durable nylon lace-up ankle brace with Figure-8 and circumferential straps for medial, lateral and arch support. This ankle brace provides stability for both chronic and acute ankle instability and relieves pressure on the injured foot, allowing it to heal faster and avoid future injury. It is designed to help overcome ankle sprains, strains, instabilities and chronic pain associated with ankle injuries. It fits both left and right feet.
This ankle support brace offers support and protection for many conditions and injuries, including:
Swelling
Sprains
Ankle arthritis
Lateral malleolus pain
Anterior ankle injuries
Sore ankles
Ankle tendonitis
Strains
Weak ankles
Instability
Plantar Fasciitis


Why do our customers love this ankle brace?

ANKLE BRACE THAT GLIDES ALONG WITH YOU: Invest in a long lasting ankle support brace. Our foot brace was designed with end users in mind. Featuring high-quality nylon and neoprene, this ankle brace provides superior ankle support and breathability. Designed with double stitched seams, this ankle brace is strong and durable so you won't have to keep buying new ankle braces every month.
INSTANT ANKLE PAIN RELIEF: Our ankle brace helps alleviate ankle discomfort from sprains, tibial tendonitis, peroneal tendonitis, joint pain and other acute injuries. Our ankle brace is designed for use in the treatment and prevention of sports-related injuries as well as minor injuries. The side straps curve your ankle to immobilize the foot without limiting your ability to walk or run.

OPTIMAL SUPPORT TO PREVENT INJURY: This foot brace is specifically designed to work effectively in any activity, such as volleyball, basketball, football, soccer, hiking, running, wrestling etc. Maintain your best performance while being confident that your ankle will not be injured. Unlike an ankle sleeve, our brace can be adjusted to provide the level of support you desire. The lace-up front and straps allow you to adjust the tightness and compression level.

SPEED UP RECOVERY: BLITZU ankle brace for sprained ankle provides customized compression that helps improve blood circulation & provide pain relief. Our ankle brace eases foot discomfort like plantar fasciitis, heel spurs and tendonitis. It also helps in stabilizing & preventing foot injuries without restricting your motion.

GREAT ANKLE COMPRESSION WITH X-SHAPE PROTECTION: Whether you're healing and recovering at home, working all day, or playing sports, our foot wrap with compression straps will keep your feet comfortable by providing targeted and adjustable compression.
SECURED GRIP-TIGHT BOOT: What distinguishes an excellent ankle brace is not just its rock-solid support and comfort, but also its breathability for all-day wear! Blitzu ankle stabilizers include a breathable and vented shoe tongue that provides breathable support. The shoelace is purposefully linked to the tongue of the boot to ensure that it is always centered and tight enough.
GET ON YOUR FEET IN NO TIME: Built to last with high-quality materials! Fully adjustable and customizable to keep your feet comfy all day. Whether you're an athlete, weekend warrior, or simply an active person, this gear is your go-to for support and protection in your daily life!
Not what you're looking for? We offer a wide selection of ankle braces, including ankle sleeve, ankle wrap, and lace-up ankle brace.
Frequently Asked Questions About This Lace-Up Ankle Brace
Q: This ankle brace is designed to treat what conditions/injuries?
A: This lace-up ankle brace is designed to help relieve strains, sprains, and instability as well as to support injured or weak ankles, promote rehabilitation, and provide protection during sports and recreational activities.
Q: What are the benefits of this ankle brace?
A: This ankle brace keeps your ankles stable and supported during physical activity or injury rehabilitation. An adjustable figure-eight strap provides added compression and support.
Q: Is this brace suitable for everyone? 
A: This product is available in sizes S to L, fitting a wide variety of adults including men and women, teenagers, and children.
Q: Is this brace suitable for
both right

and left ankles? 

A: Yes! You can wear this brace on both your right and left ankles.
Q: Should a sock be worn under this brace? 
A: In order to reduce rubbing caused by sweat and movements, you should wear tall socks when doing physical activity.
Q: How should I choose a size? 
A: Check out our sizing chart above to determine your size.
Q: How often should I wear it? Can I wear this brace at night?
A: It is recommended you remove this brace while sleeping so that blood can flow properly and your ankle can stretch.
Q: Is this ankle brace latex-free?
A: Yes, this brace is latex-free.
Q: Should you only wear an ankle brace after an injury? 
A: It is often recommended to use a brace after an injury to provide additional support and speed up the healing process.
Q: What is the length of this ankle? 
A: When applied, this ankle brace measures approximately 7 inches tall.
Q: Can it be machine washed?
A: Hand wash with mild detergent in warm water. Let the product air dry completely before reapplying. Avoid using high temperatures when washing or drying.