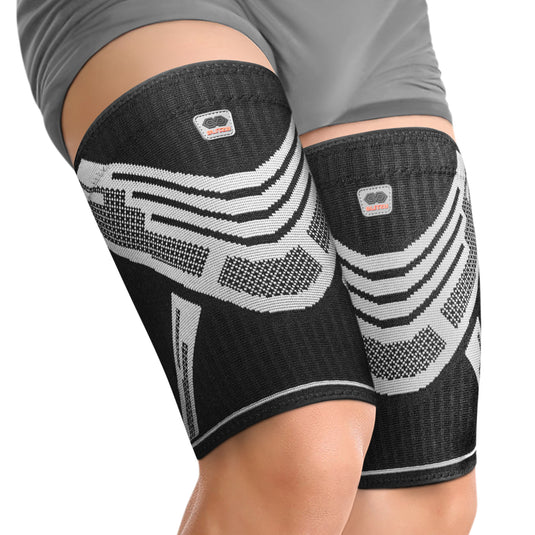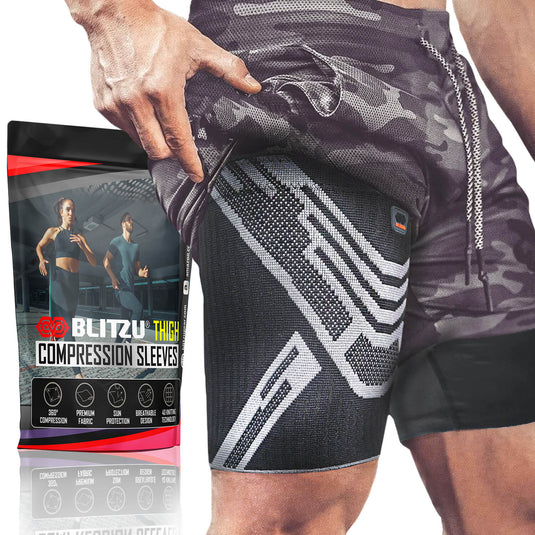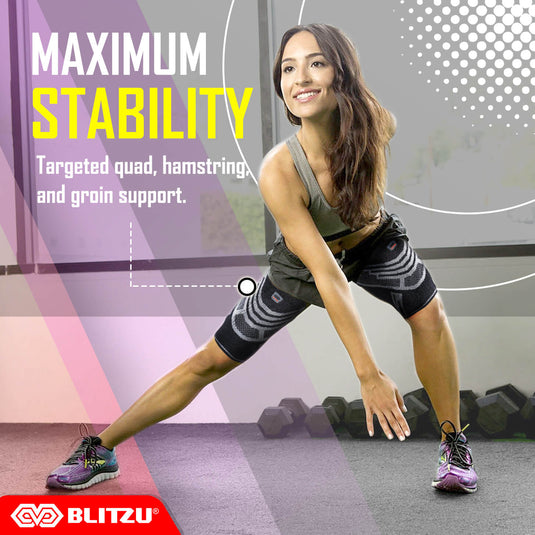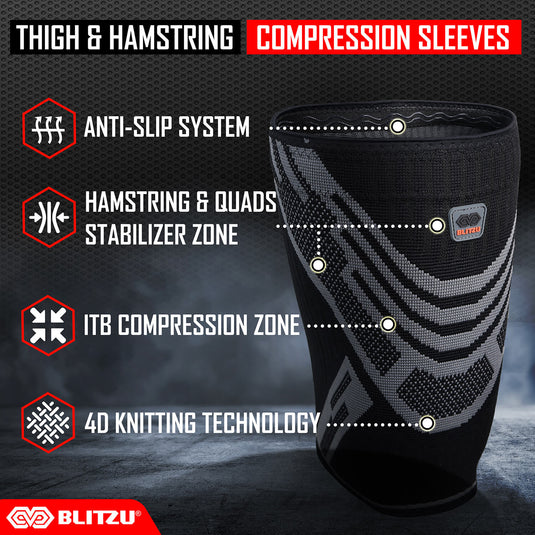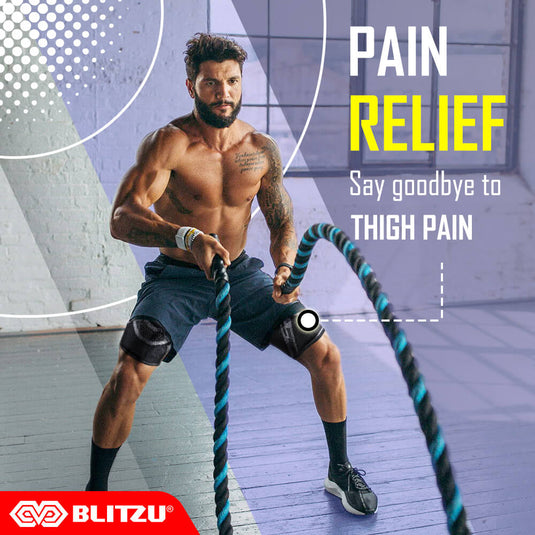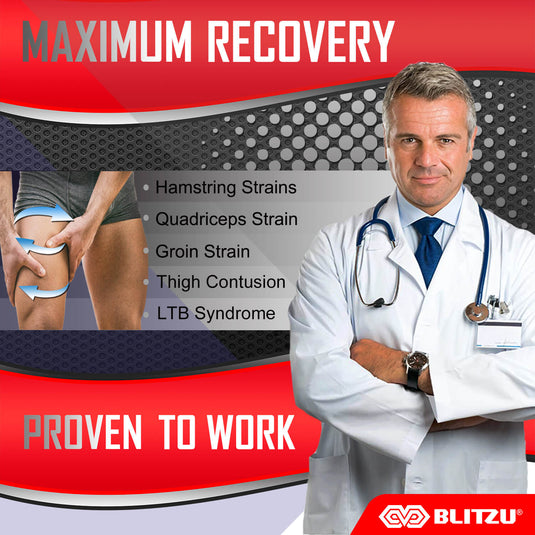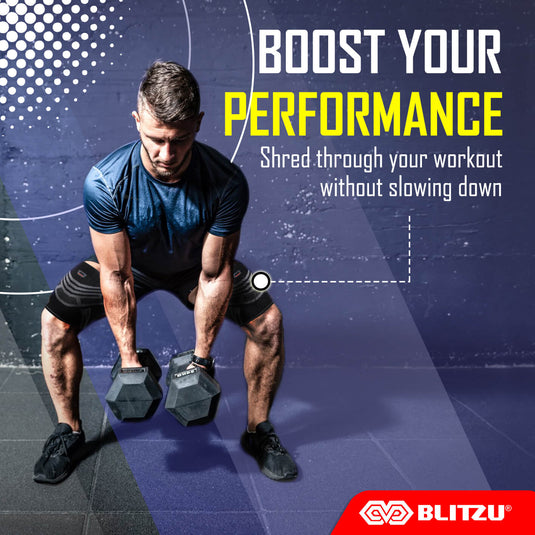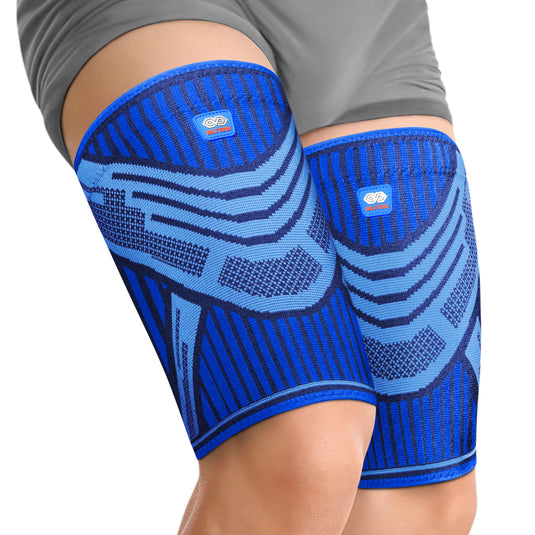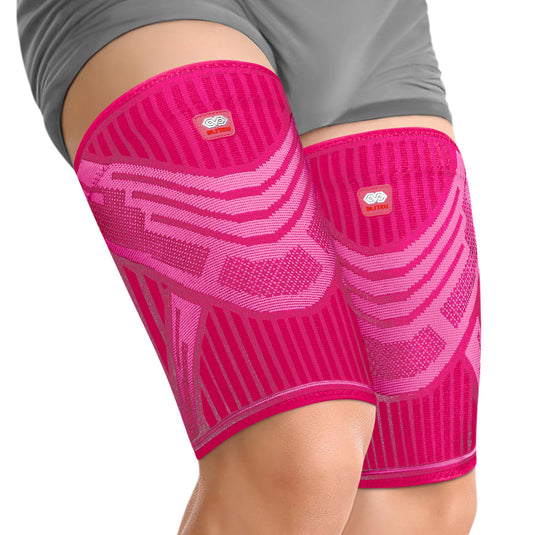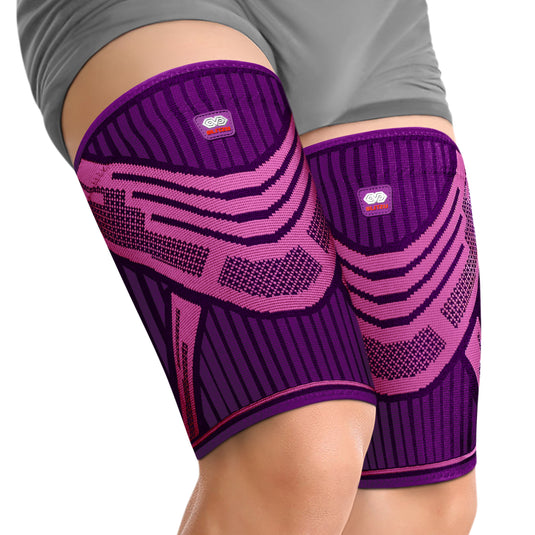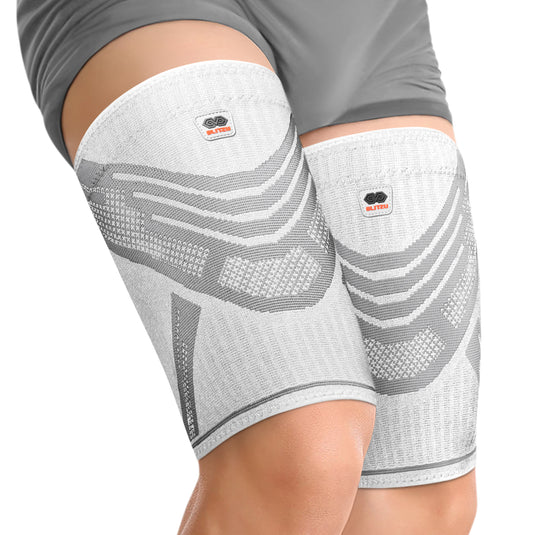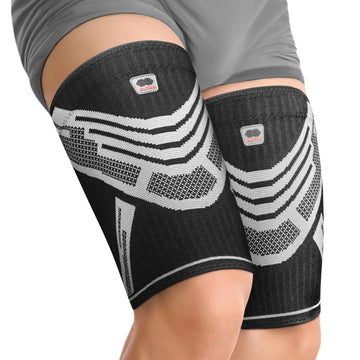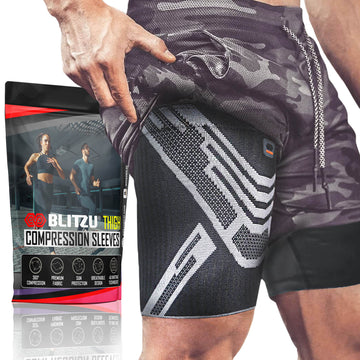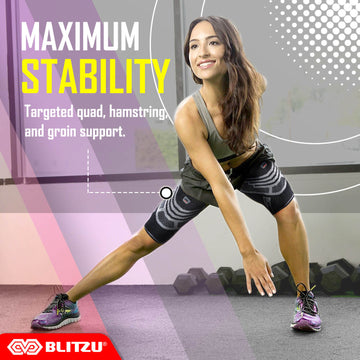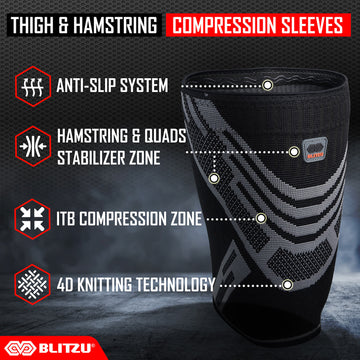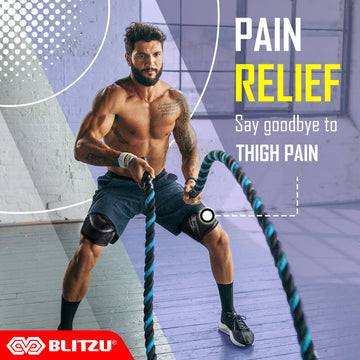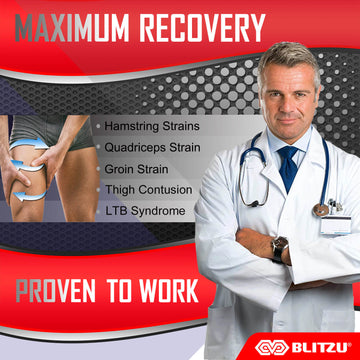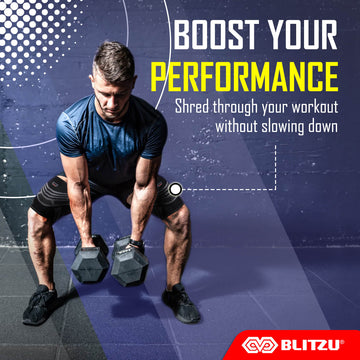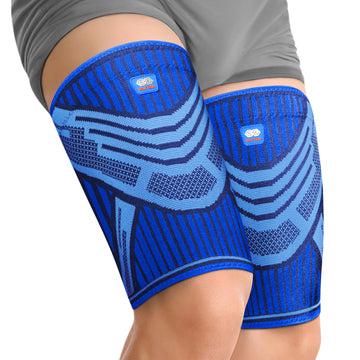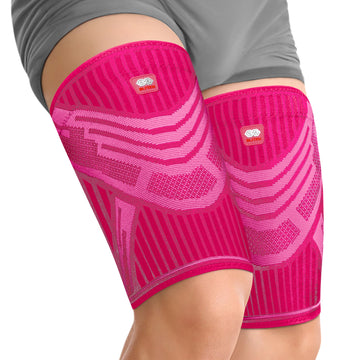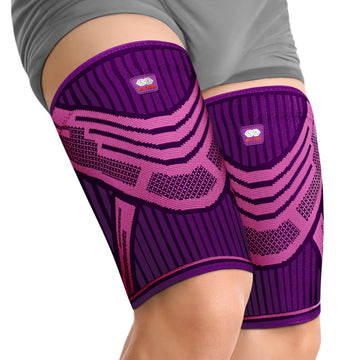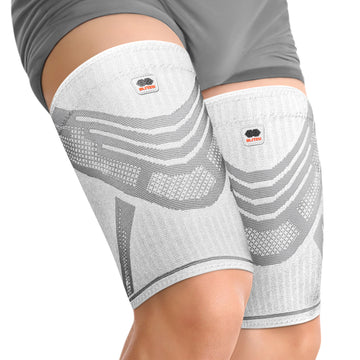 Product Description
Compression Thigh Sleeve: The Benefits:
Made with 4-Way Compression fabric
Stretchy, high-quality compression sleeves made with 4-way compression fabric. In addition to providing targeted pressure, the 4-way compression supports the entire thigh and stabilizes your weakened leg during healing.
Pain Relief for Stiff and Sore Muscles
Support, protect, and compress weakened muscles with the ultimate level of targeted compression. This hamstring sleeve reduces inflammation and tension while improving blood circulation. Heat soothes agitated, overused muscles to reduce stiffness and soreness. This thigh brace allows you to remain active while wearing it. You can use the sleeve either on your right leg or your left leg to treat inner, outer, back, and front thigh injuries.
Provides active recovery and relief
As you begin to get back into activity following a thigh injury, this compression thigh wrap provides the perfect level of stretchy, flexible support. Besides protecting you during your recovery, this sleeve will also help relieve any soreness you may have after lifting, running, or working out. Wear your thigh compression sleeve during the day while you're active or overnight to relieve stiff hamstrings and quadriceps.

Our leg sleeve can improve stability, protection, and recovery from:

Pulled or torn hamstring
Quadricep tendonitis
Repetitive thigh injuries
Strained quads
Sore thigh pain
Check with your doctor or medical professional for advice if you are not sure if this support will work for your injury, condition, or pain.
Ultimate Pain and Injury Protection

This thigh sleeve is perfect if you're recovering from a torn, pulled, or strained hamstring. As you recover from your thigh injury, your weakened muscles are at a much higher risk of further injuries. Using this thigh compression wrap, you can get back to doing what you love without having to worry about re-injury.
What Are the Signs of a Torn Hamstring or Pulled Hamstring?

It is extremely common to experience pain in the hamstring muscles of the thigh, but you may be suffering from a variety of specific injuries. Knowing exactly what's wrong with your hamstring will help you determine the best treatment method. How can you tell if you've pulled your hamstring or tore it? Symptoms and causes play a key role. In contrast, a pulled or strained hamstring is less severe, while a torn one is more severe.
TORN HAMSTRING MUSCLE

Torn hamstrings are different from strained or pulled muscles; they are complete or partial tears. A hamstring injury occurs when the hamstring is overstretched or overloaded with weight and force, causing the muscle to rip. When you have a torn hamstring, you'll experience severe pain and be unable to straighten your leg. In order to fully recover from this injury, you will need to rest and recover for several months.
HAMSTRING STRAINS AND PULLS

It is common for hamstring muscle strains to cause sudden pain and tenderness in the back of the thigh. You may find it difficult to move your leg after pulling or straining your hamstring, but the strength of the muscle is still intact and shouldn't be weakened. You can resume your daily activities after a pulled hamstring has healed with proper rest, stretching, and heat or ice therapy.
PULLED HAMSTRING RECOVERY TIME

How long will it take for you to feel normal again after pulling your hamstring? Healing time depends on the severity of your hamstring pull. Resting and stretching properly at home can help you heal mild strains within three weeks of the injury. It can take months for a severe tear of the muscle to fully heal. Don't push yourself too hard or too fast when recovering from a pulled hamstring. Increase your physical activity slowly, such as walking. Stretches and exercises can be added as your hamstring heals and becomes stronger. As you begin to exercise again, wearing a thigh compression sleeve can prevent further injury by protecting your weakened hamstring.
My Thigh is Cramping: Why is that?

Did you notice a random, maybe painful cramp in your thigh? There's no need to worry, this is quite common among active people. Usually, thigh cramps are caused by overusing your muscles. Running and exercising, or doing physical labor, can cause this. A cramp can be very mild or extremely severe depending on the severity of the overuse of your quads or hamstrings.
THIGH CRAMPS: HOW TO STOP THEM

You can experience shooting pain in your leg at any time due to cramping in your leg. What can you do to prevent thigh cramps? Resting the affected leg will help you get rid of thigh cramps. Overuse of muscles can cause painful cramps, and the more you use those muscles, the more likely it is that cramps will occur. In addition to resting, you should stretch the affected area. Hold your foot up towards your buttock for 30 seconds and then slowly release it if you have cramps in the front of your thigh (quadriceps). Sit on a chair or the floor with your leg extended out and straightened if you have a cramp in the back of your thigh (hamstring).

Hot and cold therapy, along with compression, may be able to help you if you haven't seen progress with your thigh cramps despite resting and stretching. Compression, heat, and ice can relieve inflammation and tension in sore muscles. Use an ice pack or ice roller to relieve inflammation. Use a warm towel or heating pad to relieve sore and stiff muscles. While you're walking or doing other physical activities, a compression thigh sleeve will provide you with comfortable, targeted compression to the muscles, thereby reducing swelling and improving blood flow.
Features:
PAIN RELIEF AND PROMOTE FAST RECOVERY - Recommended by trainers and physicians. The Performance™ thigh sleeves reduce injuries around the thigh, hamstrings, quadriceps, and groin areas. It eases the tension in your thigh muscles, allowing you to feel comfortable and pain-free all day long.
ENHANCE YOUR PERFORMANCE - Designed for extra stability and support, our Performance™ thigh brace provides 20-30mmHg compression to increase blood flow for better performance. Promotes healing, reduces recovery time and is useful in preventing re-injury.
PROVEN TO WORK - Wear it to work, home, or the gym, day or night. We have created a perfect sleeve that knows no bounds! Our hamstring brace is used by everyone, from professional athletes to construction workers to full-time mothers. Don't let pain stop you from living life to the fullest. Experience the power of BLITZU Performance™ thigh compression sleeves.
REAL COMPRESSION REAL RESULTS - The 4D Knitting Technology offers optimal muscle support between workouts and during casual everyday activities. Fits like a second skin and stays in place throughout the day without slipping or rolling off. Perfect for baseball, basketball, soccer, golf, gym, hiking, running, tennis, volleyball and more! You'll be able to enjoy exceptional thigh support while still maintaining your peak performance and a full range of motion!
THE BEST THIGH BRACE - The thigh brace supports your hamstring and quadriceps while aiding in the recovery of strains and pulls. The 4d compression wrap is constructed with a latex-free, non-slip premium fabric for exceptional support throughout any activity. The thigh support allows complete freedom of movement and is perfect for use in any activity, including soccer, baseball, basketball, cycling, and running.
THE THIGH BRACE THAT WORKS - Increasing circulation and retaining therapeutic heat, Our thigh sleeve relieves stiff and sore thigh muscles. Effective for groin, hamstring and quad strains and pulls. This thigh support brace promotes healing, reduces recovery time and is useful in preventing re-injury.
Frequently Asked Questions About These Thigh Sleeves
Q: These Thigh Sleeves are designed to treat what conditions/injuries?
A: These hamstring compression sleeves can be used for the treatment and management of muscle spasms, strains, and pulls, torn hamstring recovery, quadriceps tendonitis, as well as general thigh pain and injuries.
Q: What are the benefits of this thigh brace?
A: These hamstring sleeves provide targeted compression, protection, and support to your weakened muscles. This hamstring sleeves help reduce inflammation and tension as well as improve blood flow. A soothing warmth relieves stiffness and soreness in overworked, agitated muscles. In addition, you can wear this support brace while you're up and active. It provides effective cover and support for injuries and pain in the back, front, and outer thighs.
Q: Is this compression hamstring brace suitable for everyone?
A: This thigh support brace is available in sizes S to XL, fitting a wide variety of adults including men and women, teenagers, and children.
Q: Is this thigh support brace sold in pairs? 
A: Yes! There are two sleeves in each package. They can be worn as a pair or separately based on your needs.
Q: How should I choose a size?
A: Check out our sizing chart above to determine your size.
Q: How often should I wear it?
A: You can wear the thigh brace comfortably while sitting, standing, and during physical activity, or after activity for recovery purposes.
Q: Is this thigh sleeve latex-free?
A: Yes, this thigh sleeve is latex-free.
Q: Can it be machine washed?
A: Yes. Machine wash in cold water with a mild detergent. Let the product air dry completely before reapplying. Avoid using high temperatures when washing or drying.