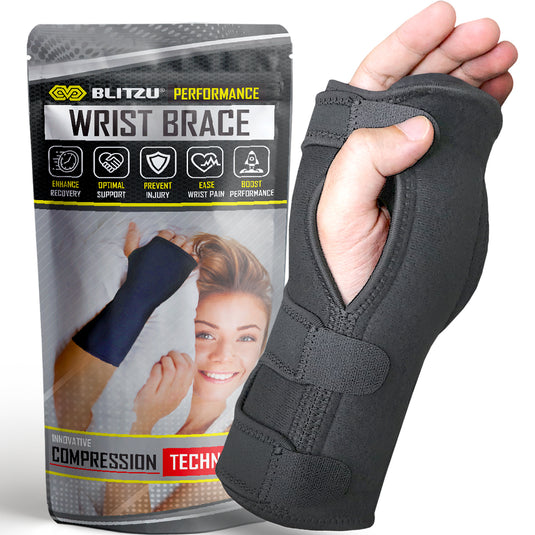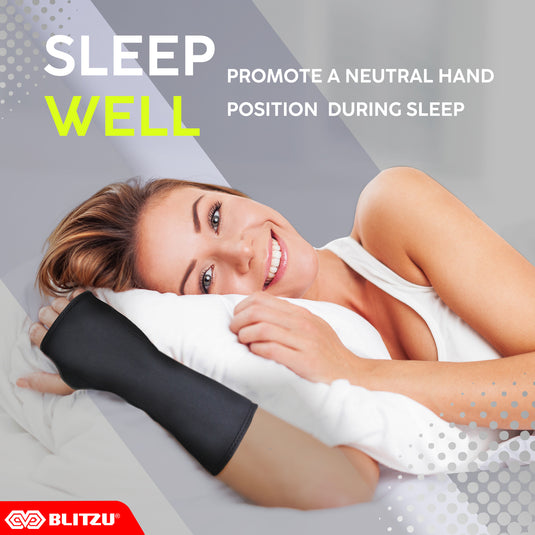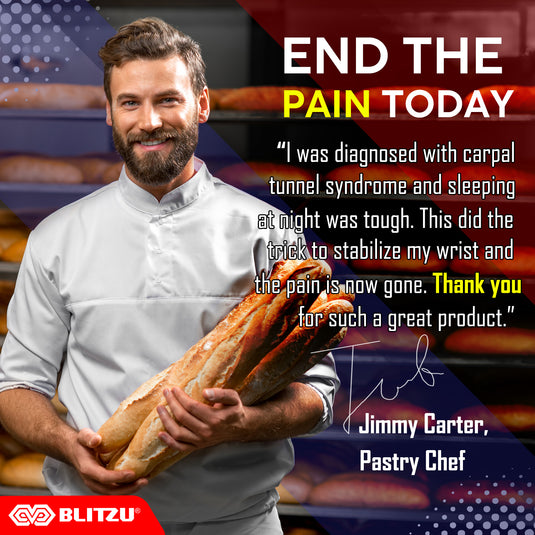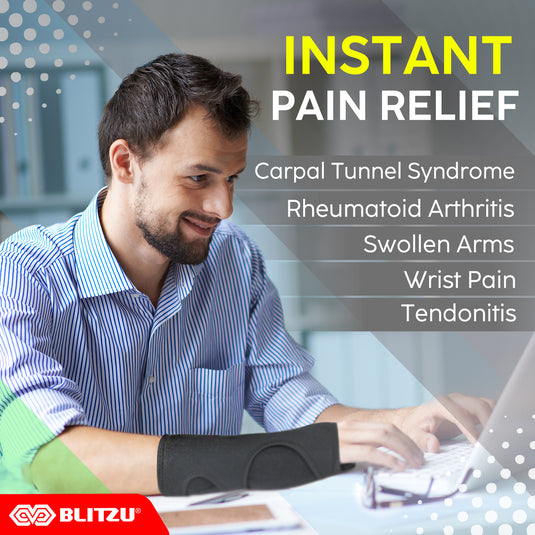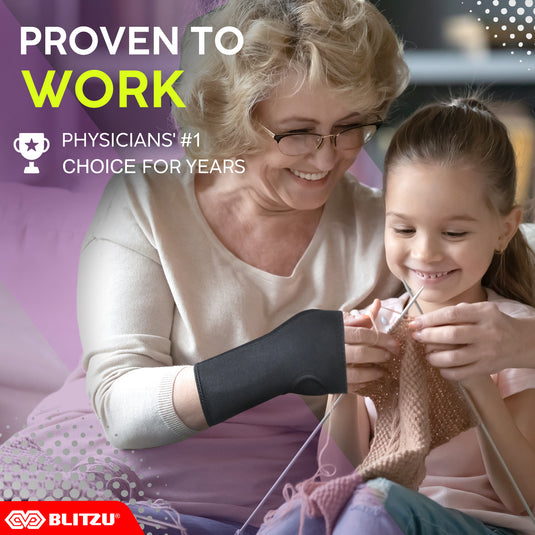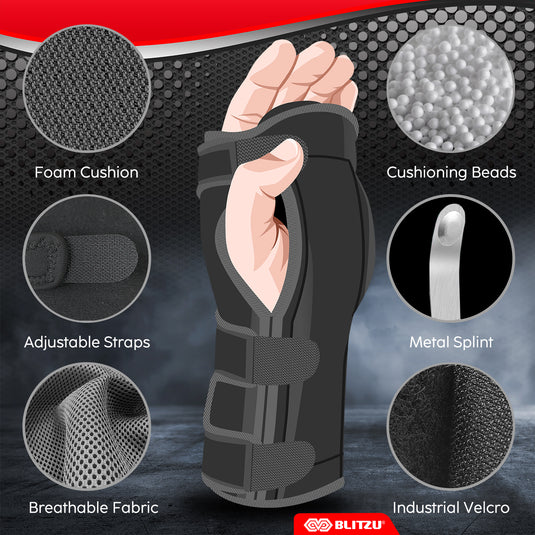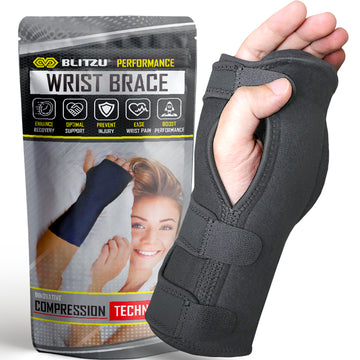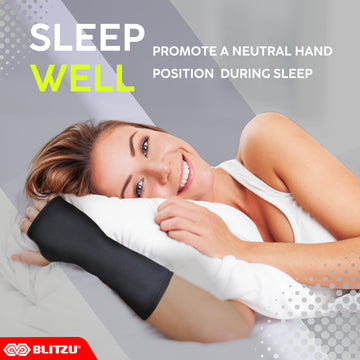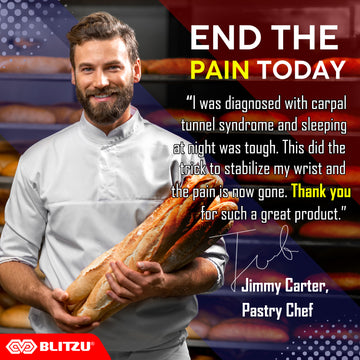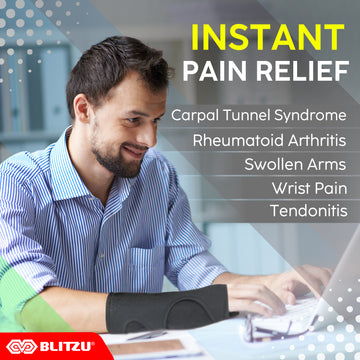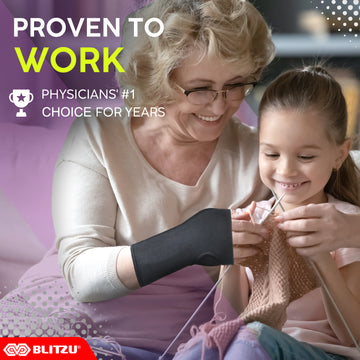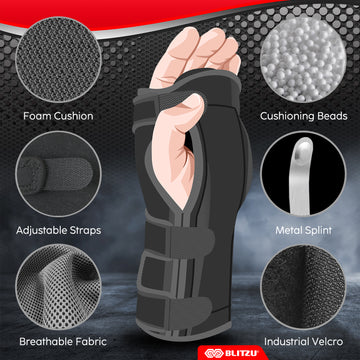 Product Description
The Performance™ Wrist Brace helps relieve pain associated with Carpel Tunnel Syndrome, Arthritis, Tendonitis, and Post-Cast Wrist pain. We have designed this wrist brace to deliver the therapeutic support you need with an advanced removable palmar splint, strategically placed straps, and a plush beaded cushion. Its super breathable materials make it comfortable to wear day and night.
Why Do I Need a Wrist Brace?
Treat Repetitive Motion Injuries
Repetitive motion injuries are those that occur as a result of damage that builds over time, such as carpal tunnel. Common activities that lead to repetitive motion injuries include: 
Typing on a keyboard 
Stocking store shelves 
Using the same tools over and over 
When you perform these activities daily, they can damage the muscles, tendons, and nerves. Symptoms might include pain, numbness, tingling, stiffness, or weakness. Our wrist brace offer the support needed in the injured area to allow time for healing to take place.
Stabilize Fractures

Our wrist brace offers the stabilization necessary for the bone to heal fully. These splints tend to be a bit more firm than the types used for repetitive motion injuries, to ensure the bone remains in the proper position as it heals. 
Allow for Sufficient Healing Time
The Performance™ Wrist Brace can aid in the healing process by keeping the injured area stable throughout recovery. Splints can also be helpful at night, preventing motion of the injured area while you are asleep. 
Protect Wrists and Hands During Repetitive Tasks
Our Wrist Brace tends to be softer and more comfortable, making them a good choice if you plan to wear them long-term as part of a preventative plan. The braces still offer sufficient support so you can perform your tasks with less risk of a soft tissue injury over time. If you have injured your wrist in the past, this support can help you avoid re-injuring the joint. 
Provide Support During Sports Training
This wrist brace can ensure you maintain proper form during exercise, while preventing over-extension or over-exertion of the joint that could lead to injury over time. It offers the support necessary to keep joints healthy throughout workouts and competitions.

Frequently Asked Questions About These Wrist Brace

Q: This wrist brace is designed to treat what conditions/injuries?
A: It treats and manages arthritis, wrist pain, carpal tunnel syndrome, fractures, sprains, tendinitis, and other injuries and pains.
Q: What are the benefits of this carpal tunnel wrist brace?
A: Our wrist brace features an advanced removable palmar splint, strategically positioned straps, and a plush beaded cushion that feels like a pillow for your hand, giving you all the therapeutic support you need for the night.
Q: Is this compression wrist brace suitable for everyone?
A: With the one-size-fits-all design, it fits a wide range of adults, including men, women, teenagers, and children.
Q: Can this splint be worn on either hand? 
A: You can interchange the brace between the left and right wrists.
Q: Is this night brace latex-free?
A: Yes, this night brace is latex-free.
Q: Can it be machine washed?
A: Yes. Machine wash in cold water with a mild detergent. Let the product air dry completely before reapplying. Avoid using high temperatures when washing or drying.