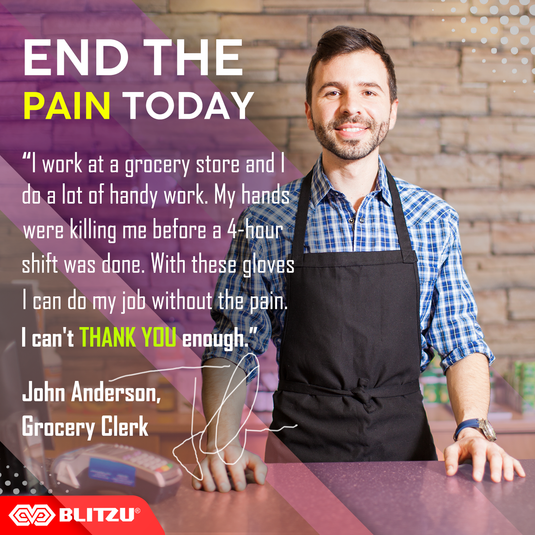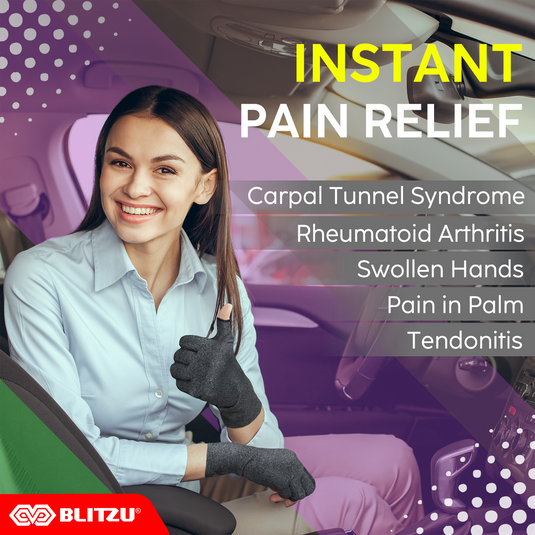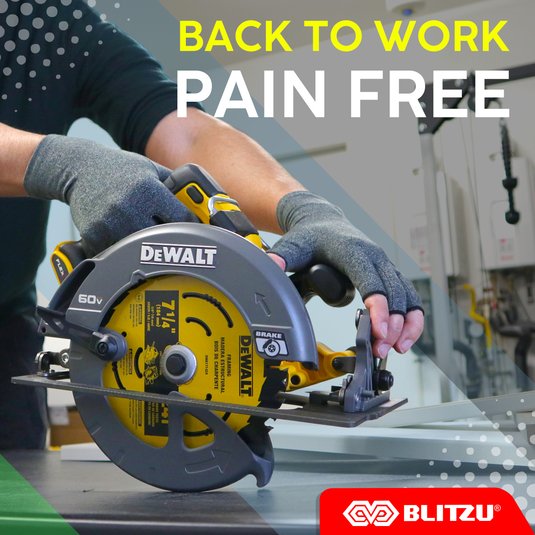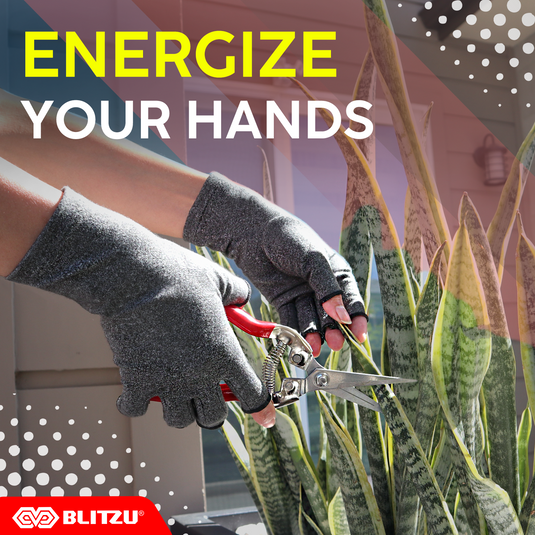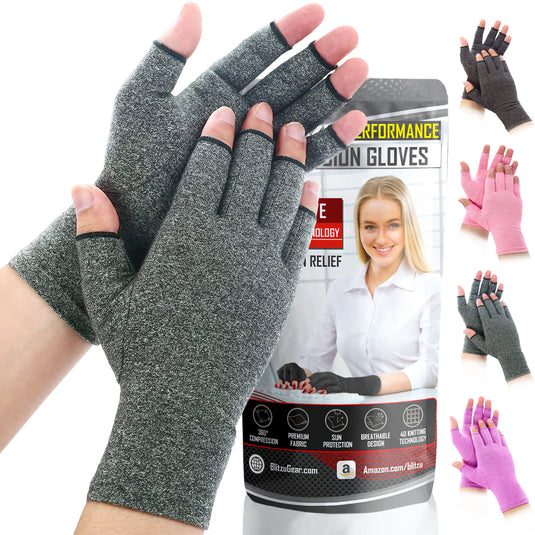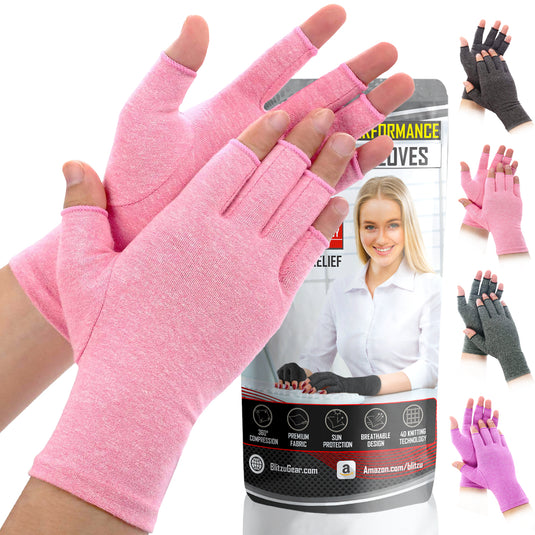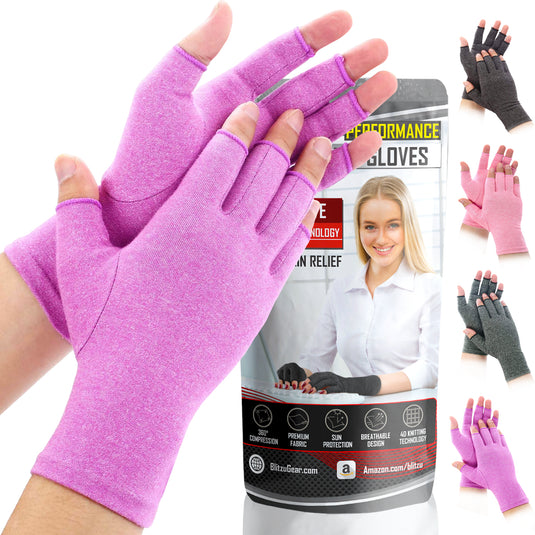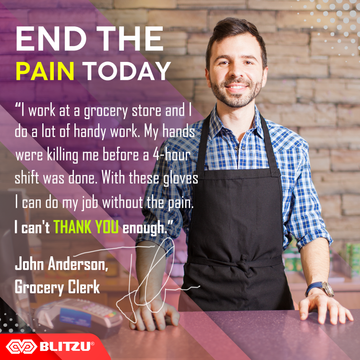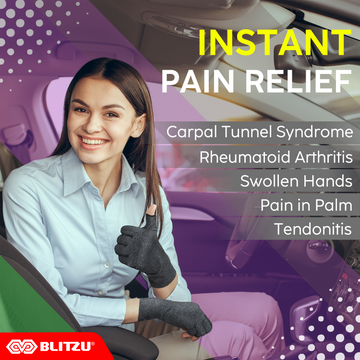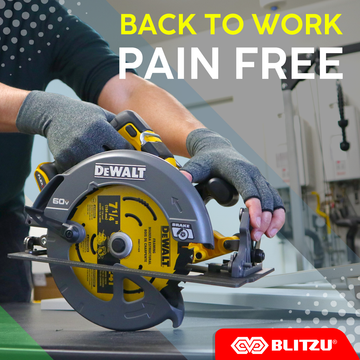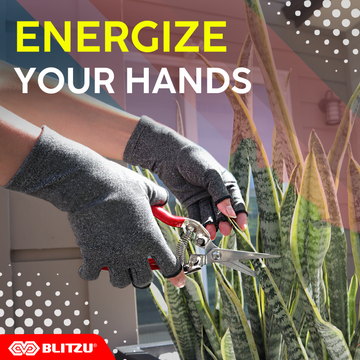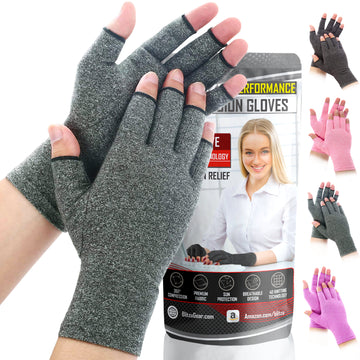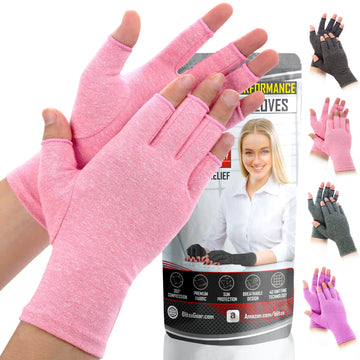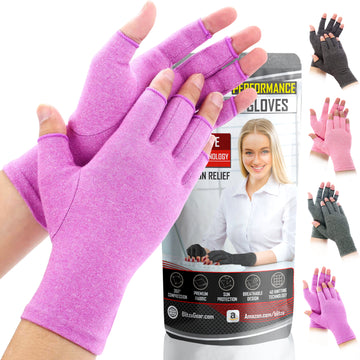 Product Description
Our Performance™ Fingerless Arthritis Compression Gloves Are Designed to Provide Maximum Comfort and Support for Your Fingers, Palm and Wrist When Using Your Phone, Typing in Cold Office, Cooking, Gaming, Driving or Gardening.
These Compression Gloves increase blood circulation, provide support, and relieve stress on your hands, fingers, palms, and knuckles making it an ideal choice for those with Pain in the Hands, Tendonitis, Arthritis, Carpal Tunnel Syndrome, or stiff or sore muscles.
Best compression gloves for arthritis pain - Our arthritis compression gloves are designed to provide maximum comfort and support during the day and at night. It is often used by people with hand pain, tendonitis, arthritis, carpal tunnel syndrome, stiff or sore muscles, joints, and tendons.

Fingerless gloves for women & men – The Performance™ arthritis compression gloves feature an open finger design which allows you to perform your daily tasks with ease.

Fast recovery - Whether you suffer from Raynaud's Phenomenon, Carpal Tunnel Syndrome, Osteoarthritis, Rheumatoid Arthritis, Dupuytren's Contracture, Psoriatic Arthritis, Soft Tissue and Sport-Related Injuries, our gloves will relieve your hands pain and keep your hands warm at the same time.

Soothing compression therapy - Designed to fit comfortably around your hands. No uncomfortable seams or sweaty palms! Our breathable gloves are designed to be worn on a daily basis (even overnight!) and won't decrease in comfort even after months of wear.

Comfortable to wear - Made from soft, silky cotton and premium spandex. Provide maximum compression and retain body heat around the joints. Keep your hands warm during winter and cool during summer. The 4-way stretch construction enhances your movements while providing the flexibility to move freely. Not made from natural rubber latex.

With these keyboarding gloves, you can alleviate a variety of wrist, hand, and finger pains. Hand supports may be worn as needed to provide relief from various types of pain and conditions, including:
Inflammatory arthritis

Tendonitis

Gamer's thumb or wrist

Carpal tunnel syndrome

Raynaud's Phenomenon

Osteoarthritis

Hand or wrist pain of any kind
Wear

while gaming, typing, knitting, cooking, or working

Gaming, working from home, typing, or any other activity requiring the use of a keyboard can cause painful damage to your wrists, hands, and fingers. Using these gloves will ease the pain of your aching hands and wrists by providing soothing compression. You can still keep up with your activities while wearing these fingerless gloves, such as working or gaming!

Frequently Asked Questions About These Arthritis Gloves
Q: What conditions/injuries are these compression gloves designed to treat?
A: These fingerless gloves will help you deal with wrist and hand pain caused by typing, working or gaming, tendonitis, arthritis, carpal tunnel syndrome, stiff or sore muscles, joints, and tendons.
Q: What are the benefits of wearing arthritis gloves?
A: Your hand is supported by the four-way compression fabric, reduces aching pain, swelling, and inflammation in your hands and wrists while improving circulation.
Q: Are these gamer gloves suitable for everyone? 
A: This product is available in sizes S to L, fitting a wide variety of adults including men and women, teenagers, and children.
Q: Are these fingerless gloves sold in pairs? 
A: Yes! There are two gloves in each package. They can be worn as a pair or separately based on your needs.
Q: How should I choose a size? 
A: Check out our sizing chart above to determine your size.
Q: How often should I wear it? 
A: You can wear them during the day or at night, but do not wear them for longer than 12 hours at a time.
Q: Are these arthritis gloves latex-free?
A: Yes, these gloves are latex-free.
Q: What is the material of these knitting gloves?
A: They are made of cotton, polyester and spandex, with a compression level between 20 and 30 mmHg.
Q: Can it be machine washed?
A: Yes. Machine wash in cold water with a mild detergent. Let the product air dry completely before reapplying. Avoid using high temperatures when washing or drying.