Should I Be Wearing a Back Brace for Back Pain?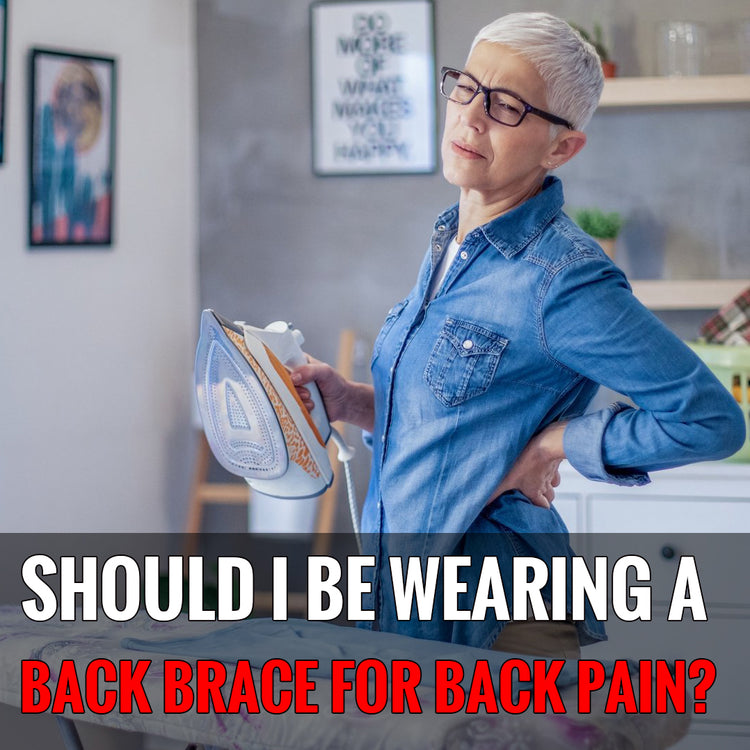 ARE YOU SUFFERING FROM BACK PAIN? According to studies, back pain is the second most common reason for hospitalizations and hospital visits after childbirth, and 80 percent of Americans will experience it at least once in their lives, and many will live with it on a daily basis.
The causes of back pain
There are many possible causes of back pain. These include strained muscles and ligaments, heavy lifting, sudden twisting movements, or more severe structural conditions like bulging or ruptured disks, sciatica, arthritis, osteoporosis and scoliosis. A number of systemic and internal conditions can be associated and complicate the condition, such as inflammation. Using bracing may be an effective treatment for mechanically caused problems.
What is a back brace and how does it work?
Back braces are external devices used to support the muscular and bone structures of the spine. A lumbar sacral orthosis provides support and immobilization for your lumbar spine. It is an essential component of successful treatment for spinal disorders. Based on extensive research, we have decided that the LSO (Lumbosacral Braces) offers the highest level of comfort, stability, and durability. We designed and built the LSO Braces after extensive research on live subjects, motion, and computerized evaluations to provide the most precise and optimum results for any situation or use, whether for warehouse workers, athletes, or simply those who tend to be sedentary. In addition, they are designed for stabilizing chronic pain, pinched nerves, spondylolysis and spondylolisthesis, sciatica, spinal stenosis, after lumbar spinal fusion and discectomy, as well as recovering from decompression and laminectomy.
What are the benefits of wearing a back brace?
An effective way to relieve back pain and improve posture is to wear a back brace. There are a variety of back braces available, ranging from simple back supports to more complex braces that provide a full range of spinal support. However, there is some debate as to whether back braces are actually beneficial to your back in the long run. It is a concern that back braces may result in muscle weakness or dysfunction and can lead to a lifetime of dependency. A back brace can also make certain activities difficult, such as bending and lifting. In addition, back braces can be uncomfortable and inconvenient to wear. However, there are a number of cases and reports of people using back braces to live a pain-free and more functional lifestyle. Consult your physician and physiotherapist to determine whether a back brace is appropriate for you.
Using a back brace to alleviate lower back pain
People who have acute (short-term) back pain may benefit from wearing a back brace to relieve pressure on the spine. A back brace, also known as a lumbar orthosis, may also be recommended for the following reasons:
Adds support to the spine
Helps control back movements
Corrects an existing deformity
Aims to promote recovery

following a back

surgery or other injury
Prevents muscle or spinal damage from progressing
Reduces axial load bearing on weakened spinal segments
Stabilize and immobilize weak or damaged spinal segments
A back brace is also beneficial for individuals who occasionally lift heavy objects or bend repeatedly during strenuous activities. Using back braces for short periods of time may offer good spinal support and help distribute body weight more evenly to reduce the risk of future back injuries. However, using a back brace is typically a temporary solution to back pain.
A back brace provides individualized support
As the spine carries more weight in the lower back, the lumber area or lower back is particularly prone to back pain. This problem can be exacerbated by poor posture or weak muscles. The spine and muscles of the back can be aligned again with the help of a properly fitted back brace. A back brace with straps can also create an upright stance by pulling the shoulders back, while the waist strap supports the lower back. Individuals can maintain proper posture after removing the back brace by using this temporary postural training.
The Advantages of a Back Brace
Post-surgical back braces stabilize the spine after surgery when it is most needed.
The braces support posture, brace the abdomen, and reduce lower back strain.
They reduce pain in everyday movements such as getting out of bed, rising from a sitting position, or tying shoes.
If your job requires physical effort or labor that puts stress on your back, a brace may be helpful to help you return to

work as

it takes the strain off your back and helps you recover. 
Only wear braces for as long as necessary. Wearing them for a prolonged period ma

y weaken the muscl

es and tissues.
Final

Thoughts
A well-fitted and perfectly designed brace can provide miracles for patients who suffer from lumbar strains and post-surgical recovery. With a brace, the injured tissues can heal. As a result, the patient may experience less pain as well as be able to return to activities that he or she was not able to do before. You should see a doctor if the pain doesn't improve or worsen, or if you're concerned about another injury. At BLITZU, we have a wide selection of health care products to meet your needs. If you have any questions, our customer service representatives are happy to assist you.