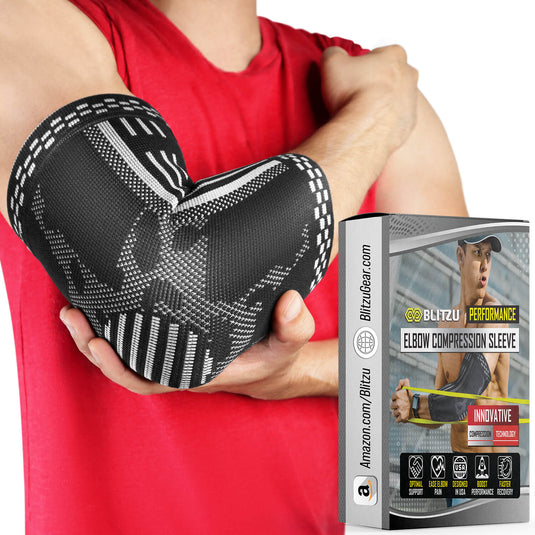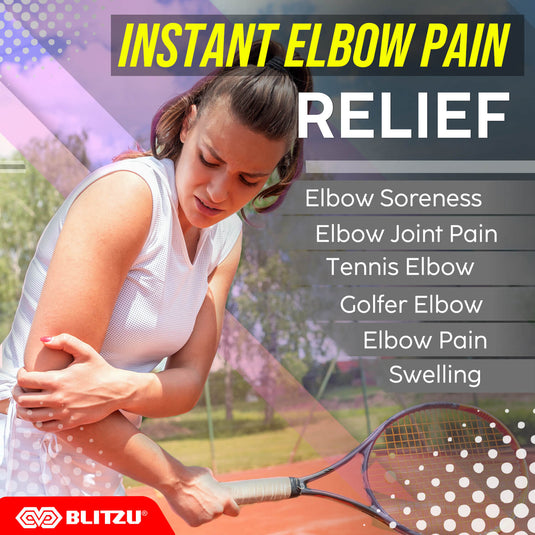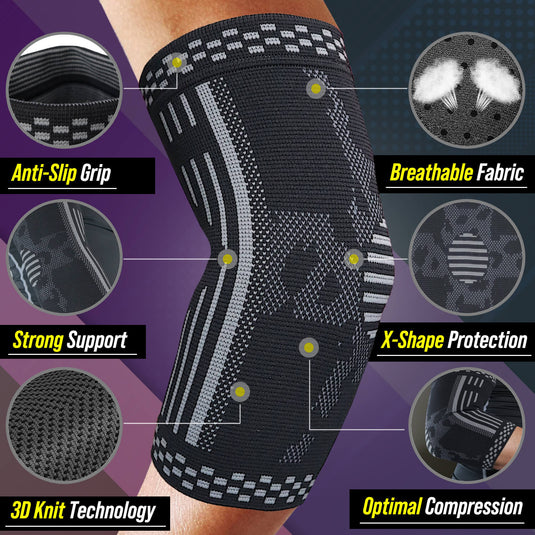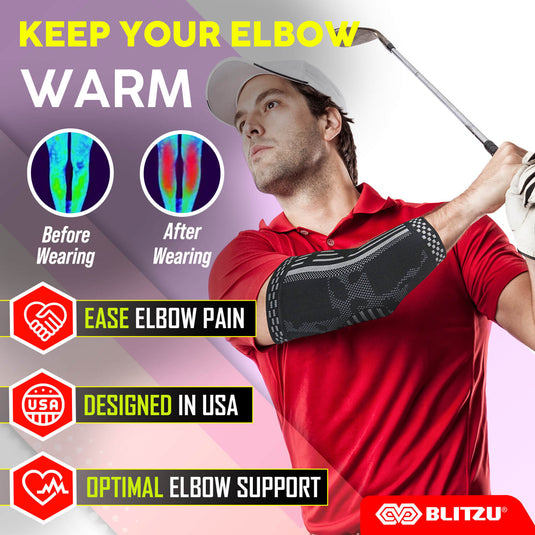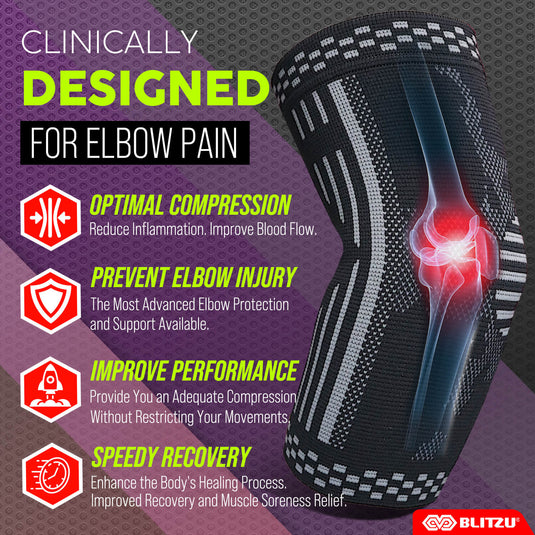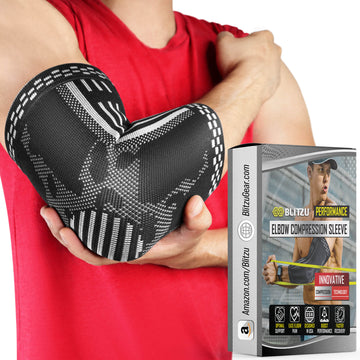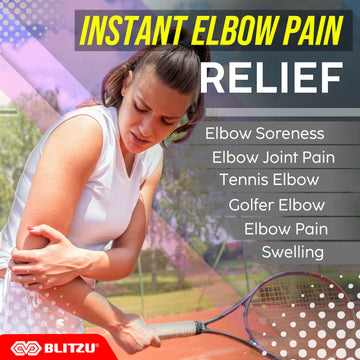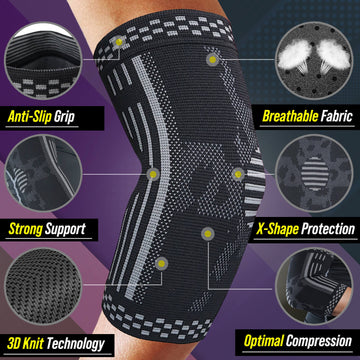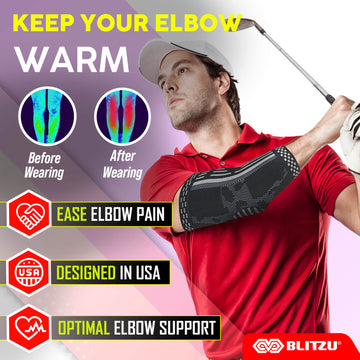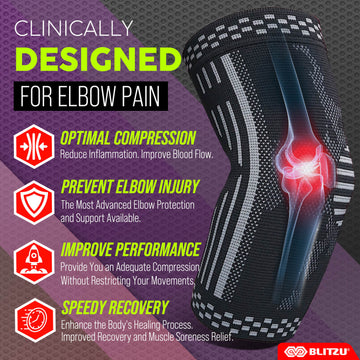 Product Description
This Elbow sleeve Compresses your elbow joint and absorbs forces transmitted through the soft tissues to the point of pain on the outside of the elbow, giving you immediate pain relief from cubital tunnel syndrome, tendonitis, golfer's elbow, swelling, arthritis & injury recovery.

How Can BLITZU Elbow Compression Sleeve Help You?

Enhanced performance
Injury prevention
Temperature regulation and warmth
Skin protection
Muscle and joint recovery
Added support
Relieve tension and pressure
One of the most significant advantages of elbow compression sleeve is their multifaceted benefits, especially for elbow pain. From increased blood circulation to added support and relieving tension and pressure. The flexible material allows for adequate range of motion, which is crucial for performance on the court. Elbow sleeves also cover a more significant portion of a player's arm, it's lightweight, breathable, and are relatively easy to position.


What Are the Benefits of this Elbow Tendonitis Sleeve?
Your elbow, forearm, or upper arm may be in pain for a variety of reasons. Your muscle or joint may have been overused, or you may have twisted it incorrectly. An important feature of this arm sleeve is that it provides full coverage, as well as active compression for a wide range of injuries, pains, and conditions. By using the 3D compression materials, you can reduce swelling and inflammation while increasing blood circulation. You can quickly relieve stiff, sore muscles by offering this support to your sore or injured arm.
Reduce swelling, soreness, and stiffness
Exercise or lifting weights regularly can cause muscle soreness and inflammation in your arms if you are an athlete or active person. It is common for inflammation and swelling to travel directly to your elbow. You can reduce swelling immediately and prevent it from happening in the first place by wearing an elbow sleeve. If you have an achy, swollen or uncomfortable elbow, wearing an elbow compression sleeve will help you get back to an active lifestyle as soon as possible.


Features:
PHENOMENAL ELBOW PROTECTION - This Elbow Brace Provides Amazing Elbow Support and Protection. It Compresses the Elbow Joint and Absorbs Forces Transmitted Through the Soft Tissues to the Point of Pain on the Outside of the Elbow, Giving You Immediate Pain Relief From Cubital Tunnel Syndrome, Tendonitis, Golfer Elbow, Swelling, Arthritis & Injury Recovery.

INSTANT SUPPORT AND PAIN RELIEF - Our Elbow Compression Sleeves Produce the Perfect Amount of Compression to Increase Your Blood Circulation Significantly and Relieve Symptoms of Joint Inflammation, Tendonitis, Golfer Elbow, and Other Types of Elbow Pain. Suitable for Workers, Sport Players, Cooks, Massage Therapists, Weightlifters, Bowler and Others Who Perform Repetitive Arm Movements on a Regular Basis.

ITCHY-FREE PREMIUM QUALITY - Our Elbow Sleeves Are Designed to Provide Superior Support, Comfort, & Relief Without Compromising Your Mobility. The Form Fitting and Breathable 4d Compression Fabric Maintain Joint Stability Regardless of Activity, Help Improve Blood Circulation and Ease Pain Without Itchiness Commonly Associated With Neoprene Supports.

KEEP ACTIVE AND MOVING - Protect Your Elbow and Stay Supported No Matter What Activity You Are Doing. Feel Confident With the Comfortable Support You Need Without Restricting Your Arm's Movement. Our Tendonitis Elbow Brace Is Great for Rigorous Exercises Such as Weightlifting, Golf, Volleyball, Baseball, Basketball, Crossfit, Fitness, Powerlifting, Workout, Cross Training, and More.

LIGHTWEIGHT AND BREATHABLE – This Elbow Compression Sleeve Is Soft, Lightweight, and Breathable, Making It a Great Choice for Intense Workouts. Feel Comfortable Even When You Wear It for Long Periods of Time. Its Special Fabric and Design Ensure a Tight and Non-slip Hold on Your Arm. You Can Rest Assured These Elbow Braces Won't Roll Down or Bunch Up When You Exercise.

ALLEVIATE STRESS & FATIGUE - This Elbow Compression Sleeve Is Designed to Alleviate Your Elbow and Forearm's Stress and Fatigue While Protecting Your Tendon From Further Pain.

VERSATILE ARM BRACES - This Elbow Braces Can Be Used by Many People, Especially Those Who Suffer From Tendonitis Who Want to Further Protect Their Arms Against Injuries From Sports or Any Other Daily Activities. It Also Offers Relief to People Who Suffer From Elbow Pain Due to Intensive Mouse Use or Any Other Activity That Needs the Elbow to Be Active.
Frequently Asked Questions About This Elbow Sleeve
Q: What conditions does these elbow sleeve treat? 
A: This elbow brace is useful in treating both golfer's elbow (medial epicondylitis) and lateral epicondylitis.
Q: How often should I wear my elbow brace? 
A: You can wear them during the day or at night, especially when you perform repetitive motions that might irritate your elbow.
Q: What are the benefits of these elbow sleeves?
A: This elbow sleeve compresses extensor muscles that are pulling against the epicondyle, allowing the point of tension to be relocated and the point of insertion to heal.
Q: Are this elbow strap suitable for everyone?
A: This product is available in sizes S to XL, fitting a wide variety of adults including men and women, teenagers, and children.
Q: How should I choose a size?
A: Check out our sizing chart above to determine your size.
Q: What is the material of the product?
A: They are made of nylon and spandex, and they have a compression level between 20 and 30 mmHg.
Q: How should I wash my elbow brace?
A: It is recommended that you machine wash it on delicate in cold water using a mild detergent. Please allow to air dry completely before reapplying.