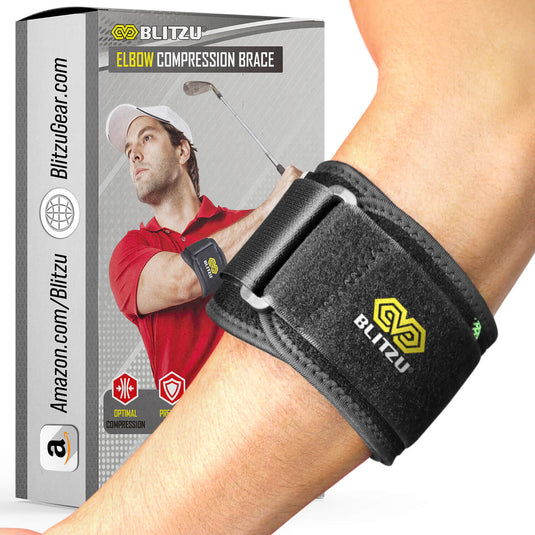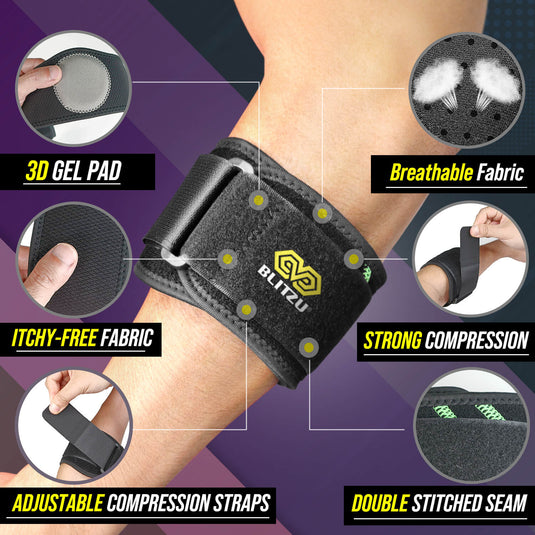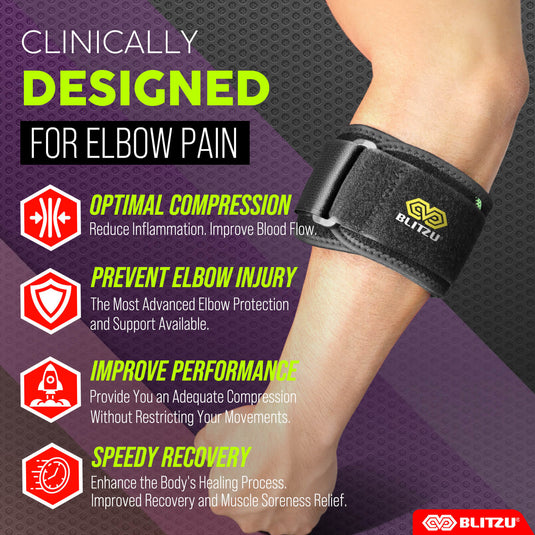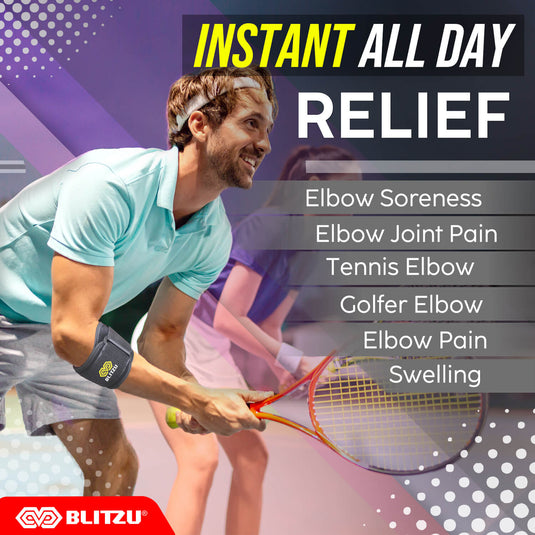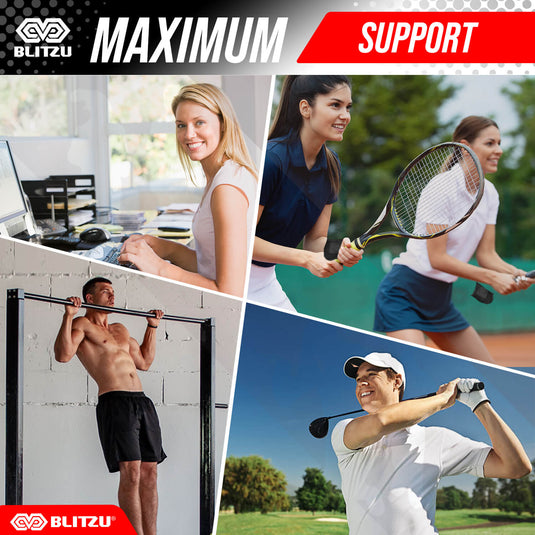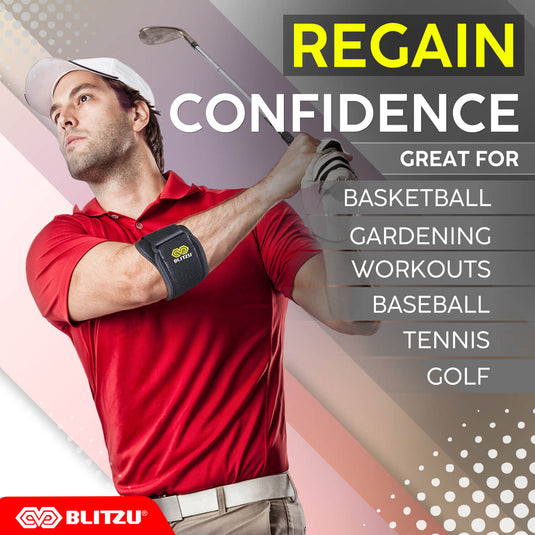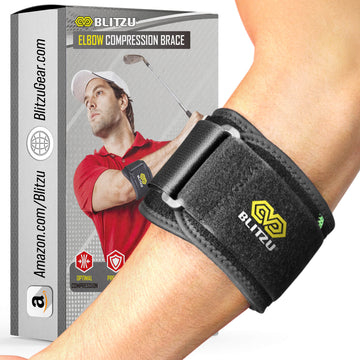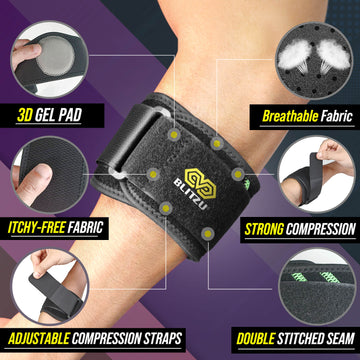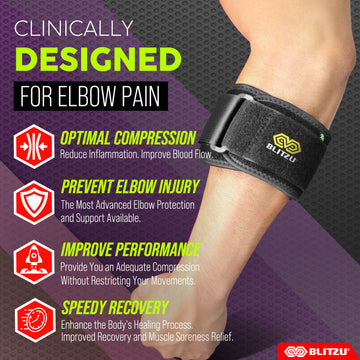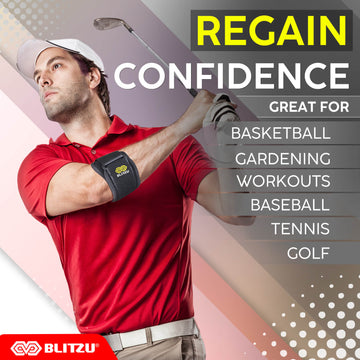 Product Description
How does a Counterforce Elbow Brace work?
A counterforce elbow brace provides pressure just below the site of golfer's elbow pain with a strap that wraps around your forearm.
A small point on the upper arm bone (humerus) called the medial/lateral epicondyle attaches the extensor muscles of your forearm. Over time, repeated motions create irritation at the epicondyle, leading to Golfer's Elbow. With this strap, the extensor muscles just below the epicondyle are compressed, which moves the point of tension and prevents pulling on the medial/lateral epicondyle, allowing it to recover faster.

How Can BLITZU Elbow Brace Help You?

Enhanced performance
Injury prevention
Temperature regulation and warmth
Skin protection
Muscle and joint recovery
Added support
Relieve tension and pressure
One of the most significant advantages of elbow brace is their multifaceted benefits, especially for elbow pain. From increased blood circulation to added support and relieving tension and pressure. The flexible material allows for adequate range of motion, which is crucial for performance on the court. Elbow brace also cover a more significant portion of a player's arm, it's lightweight, breathable, and are relatively easy to position.

What Are the Benefits of this Elbow Tendonitis Brace?

Your elbow, forearm, or upper arm may be in pain for a variety of reasons. Your muscle or joint may have been overused, or you may have twisted it incorrectly. An important feature of this arm sleeve is that it provides full coverage, as well as active compression for a wide range of injuries, pains, and conditions. By using the 3D compression materials, you can reduce swelling and inflammation while increasing blood circulation. You can quickly relieve stiff, sore muscles by offering this support to your sore or injured arm.
Reduce swelling, soreness, and stiffness
Exercise or lifting weights regularly can cause muscle soreness and inflammation in your arms if you are an athlete or active person. It is common for inflammation and swelling to travel directly to your elbow. You can reduce swelling immediately and prevent it from happening in the first place by wearing an elbow sleeve. If you have an achy, swollen or uncomfortable elbow, wearing an elbow compression sleeve will help you get back to an active lifestyle as soon as possible.
I don't play golf, can I get Golfer's Elbow?
Don't be confused if you have Golfer's Elbow symptoms but don't play golf! In addition to golfers, many other athletes suffer from Golfer's Elbow. Athletic activities that can cause elbow pain include:

Football
Baseball
Yoga
Swimming
Mountain biking
Cycling
Spin class
Fishing
It is possible to suffer from these painful elbow conditions even if you don't play sports or exercise. It can be caused by a variety of repeated daily or occupational activities:

Video games
Playing bass guitar
Making french press coffee
Writing and typing
Painting with roller brushes
Plumbing
Bricklaying
Gardening


F
Frequently Asked Questions About This Elbow Brace
Q: What conditions does these elbow brace treat? 
A: This elbow brace is useful in treating both golfer's elbow (medial epicondylitis) and lateral epicondylitis).
Q: How often should I wear my counterforce brace? 
A: You can wear them during the day or at night, especially when you perform repetitive motions that might irritate your elbow.
Q: What are the benefits of these elbow brace?
A: This elbow brace compresses extensor muscles that are pulling against the epicondyle, allowing the point of tension to be relocated and the point of insertion to heal.
Q: Are this elbow strap suitable for everyone?
A: The one-size-fits-all design is suitable for men, women, teenagers, and children.
Q: How should I choose a size?
A: It is a one-size-fits-all brace.
Q: What is the material of the product?
A: This elbow brace is constructed from a stretchy neoprene material and is fastened with medical-grade hook and loop fasteners.
Q: How should I wash my elbow brace?
A: It is recommended that you machine wash it on delicate in cold water using a mild detergent. Please allow to air dry completely before reapplying.